With no work this week and the wife is still working from home, this is an opportunity not to be missed. The weather is going to be about the same as last week – not brilliant. There's a small drop in the pressure over the next 48 hours, which hopefully may help.
When I arrived just before 9 a.m., the lake was covered in a thick blanket of fog, which is absolutely a non-starter for spotting carp, and there was still frost on the ground as well. After last week's trip, I'd put a bit of thought into where it may be best to head for and know where the carp had been hanging out. I felt that I was unable to fish the range I needed to without having to purchase a braided mainline. I'm still not 100 % convinced that braid is the way forward, or is it that I'm just old school?
I would also be casting in front of one of the day swims, plus over the top of a thick weed bed, and my presentation wouldn't be great. With all that in mind, I'd come to the conclusion that the swim I was heading for last week, backed up by another couple of choices, could be the solution to catching these carp.
This time, I was going to be using is all ground-up food items and lots of liquid attractions. It's quite a sloppy mixture of food items, which I had been preparing over the weekend. I don't like to mix everything together until I get to the lake, just in case I end up in a swim that doesn't warrant that type of fishing situation.
My swim for the next few nights. I'm not sure if it will be three nights this week, all depends on how much time I'm stuck in the bivvy. It's not a pleasant start today, the sun only came out around 2 pm and it's starting to lose its heat, as it's lower in the sky.
I couldn't cast anywhere near where the carp were showing the last few weeks. My best option was to fish their patrol routes and hope they are more on the move than previous trips. Basically, I am trying to intercept them.
It's lovely when the sun is out, and we will see how the next 24 hours go.
The sunshine disappeared behind the clouds, and at one point, I thought there was some rain coming.
It didn't materialize; it was all too calm out there and not a single sign of any carp. The area I was fishing was a silty spot between two higher points, like a small bay area.
This area will hold bloodworms and other crustaceans, with any luck, they will get visited by the carp over the time I'm here. My other rod was at the bottom of the drop-off in my margins, this is where the carp came around this point into the bay behind me.
I've never fished this spot before. However, I've often seen carp go by and I'd put it in my notebooks, but never got around to trying it out.
Both areas have been baited with my mixture and I'm fishing 12mn pink pepper squid pop-ups.
With no bleep all night long. I was hoping that the lack of frost last night, plus no mist or fog this morning and the prospects of a warmer day in the sunshine would bring on the carp today. Tomorrow was looking pretty Baltic and I would need to think hard about my options regarding staying the third night.
Once the rain finally finished and the sun came out again the afternoon was very nice and it gave an aura of positiveness to the coming 24 hours.
I took the decision to leave the bait out for the next 24 hours as I was feeling there was absolutely no need to alter anything or switch anything around. The rain drifted on and off, mixed with the sunshine.
My trusted JRC Tx 2G bivvy was the perfect solution to these cold conditions, in conjunction with the overwrap which is over 18 years old. It was given to me by Rob all those years ago and it's still going strong. I have a bad tendency to hang on to things until they completely fall apart, the best things appear to be the good old products.
With clearing skies, it's going to be another fresh one. I don't think it will be as cold as previous nights.
I think it may have been a bit cold last night and still, with no action, I'm really not too sure quite what to do. There've been no signs of carp at all. I'm starting to think I'm wasting my time unless I'm using Zig rigs. My experience so far is limited and have had a lot of tangles. This is something I need to work on over the next couple of weeks. I'm convinced that this is why we all struggle on this lake in the deep winter months, by mid-February they are back on the bottom munching away.
I'm not sure yet, but I think I will head home to sort out that zig stuff, and as there's tree feeling going on at the School Lakes, I may well go Perch fishing on Monday, and that all needs sorting. I could just take my jig rod, but I find the ledger prawns are way more effective on lakes around here.
My mind is now set on heading home and am going to putting some thought into my approach next week. I can't believe February is getting even closer and spring as well – roll on March.
Until next time
Richard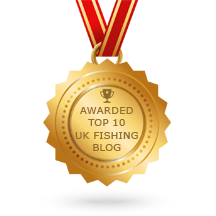 Use my code for 5% discount
The discount code applies to the entire order when purchasing the Deeper Sonars PRO, PRO+, PRO+ 2, CHIRP, CHIRP+, CHIRP 2, CHIRP+ 2. The code is valid in all countries.CODE DEEPER-H-SNL5Q