I am taking full advantage of my wife working from home until the government updates the rules and she has to work in the office again. I arrived down the lake, my golden rule is to sort out a swim and then talk to the other anglers on the lake if I feel the need for extra information. This time, I stopped for a chat with a couple of anglers before heading along to my more favoured swim, which they also both suggested. I missed out on it by about a minute, but is the reality of fishing sometimes and may be the lake was pushing me back to this swim again?
I did very well in this swim a couple of winters ago and was doing my best to keep away from there this winter, but alas it was not to be this trip.
The carp were clearly held up along the far bank and out of range from night anglers. You can just about squeeze in a single rod, but you're limited to under the rod tip fishing, an overhanging tree is restricting this. The fish were held up a few rod lengths off the bank, making it the perfect sanctuary for them.
I leaded about a few times, found a couple of nice clean spots, flicked a couple of single hook baits out and would make a final decision on whether to put any bait out.
I decided at about 2 pm, I would get some bait out. I'd ground up a few kilos of catalyst and classic corn boilies, I had some liquid tuna, and let it soak over a few days before I arrived. I wanted to get a good amount over the area I was fishing by spreading the Spombs about to give the carp a good chance of locating my hook baits and get them searching for their food and burning up some energy.
The sun was going down on my first night and a few fish showing. There was a good chance of a bite tonight.
The temperature has dropped, and it will be bag time soon.
It was a very frosty start to the day. Luckily, the morning mist moved on very quickly. I'd no bleeps in the night, I was listening out for carp and wondering about, at about 2 am. This is something I do a lot these days.
Ian popped down for the day and brought me a nice pasty! We sat out in the sunshine talking about the coming year.
I've taken the decision that after still seeing the odd carp top over this afternoon, my rods will stay out for another 24 hours in the hope that this produces me a bite sometime over this period.
With the sun going behind the trees, the temperature is dropping, and it's getting cold again. Time for some food and a coffee, I think.
I can only hope that the carp drift a bit more into the middle of the lake, they will need to replenish the energy they have expended today after all the activities. It generally takes until February before they really wake up in this lake, but unless you hear it, you will never know that's the situation. Plus I love the outdoors, being on the lake and watching the wildlife.
The second night was as fruitful as the first, with plenty of sleep and silent buzzers! There's a gentle breeze on the lake today. There is also the prospect of a slight warmer night and a good drop in air pressure. I'm thinking of moving a rod to another spot, I will need to get the Deeper out and search about a bit closer in this time.
I'm going to give it until around noon and then get the Deeper out.
Just after 9 am, Ian arrived for a day session armed with other pasty for me! It was a great surprise, I didn't know he was coming down. It's certainly nice to have some extra company in the day time with the long cold nights stuck in the bivvy. The morning and early afternoon progressed, there where (as always) a few carp showing. Unfortunately, still out of my range and in the sanctuary area along the far bank. I was content that I was as close as I could be and at 4.30, I would put fresh hook bait on for the last night and possibly switch them about, in a hope of finally tricking a fish into picking my bait up.
The pressure was slowly dropping, there is a chance of no frost tonight, with a bit of cloud cover due at some point, the wind may swing overnight if I'm lucky – to a gently south westerly.
It was not to be this week, but I will be out there again soon.
Until next time
Richard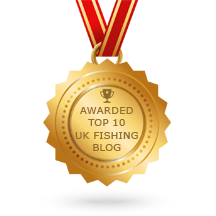 Use my code for 5% discount
The discount code applies to the entire order when purchasing the Deeper Sonars PRO, PRO+, PRO+ 2, CHIRP, CHIRP+, CHIRP 2, CHIRP+ 2. The code is valid in all countries.CODE DEEPER-H-SNL5Q Copy