I arrived down the lake at about 4 pm and did a loop around in the car – if you watch my video you will see how close the track and the lake are. I was convinced that the carp were about in their normal autumn/winter holding area, after seeing them last week. So, with that in mind, I had two swims in head and a backup.
I did my best to fish another swim this week, but alas I was pipped at the post by two other anglers and yep, you have guessed it, they were in those very two swims. I don't blame them, as I would have been in one of them given half a chance.
I then quickly had a look about and without any signs of carp in any other areas, headed for my backup swim. Being my other faithful, the Gap swim, also the spomb was still clipped up from last week. I got out a mix of crumb and 12mm Catalyst boilies with some small pellets soaked in the Catalyst syrup.
I'd also switch over to Catalyst natural wafters and pop-ups – just to keep switching things about until the carp start eating some bait and not the natural stuff they must be munching on.
Let's hope something comes of this week's trip, as it's been hard graft recently.
Last night was bleep-free for me and as far as I'm aware only one carp has been out this week. This is despite their actives over most nights. I'm convinced they are stocking up on natural food as they appear to do this every year on here, maybe a different approach is required in the future.
A day angler has set up on the opposite bank to me in one of the days swims and could help push the carp out into more open water – with any luck a bite may occur. I may consider a move of swim later today, but there's a good chance of an influx of weekend anglers which would work in my favor where I'm currently pitched up.
I had another large bream at just after 8 30 am and was still thinking of moving. The angler that was in the swim across from me, (which was my first choice) moved down the other end. I can only assume he blanked last night, the fella on the end of the point had blanked, which was a surprise as I had heard a few carp that way. It can be deceptive here, as they could've been in the bay behind me. Which after a chat and a couple of daytime shows is clearly where they were. There's a guy doing the day in a swim which gives better access to the area and someone else had turned up in another day swim nearby.
I really wasn't sure what to do. The one thing that was obvious to me, was that more people would arrive over the course of the day and my peaceful water (as always) would be at least disrupted. I had no intention of recasting unless I caught and no more bait would be put out unless I felt the need.
At around 10 am when I was on the phone with Ian discussing my options when the right-hand rod burst into life. I pulled into a carp this time, it proceeded to kite to my left and was on a mission. As I know this swim very well, I needed to get the carp a lot closer in before it could connect with the overhanging trees to my left. I pumped the carp in and walked backwards many times, but it was still going left, regardless of my efforts. The time had come to walk up to the edge of the swim, get that rod tip down to the bottom, keep pumping and gaining ground carefully avoiding those snags that hide beneath. I honestly couldn't believe how far it had gone under as it felt like I was doing this for a fair few minutes before I finally spotted the carp on my side of the tree in the lovely gin-clear waters.
I breathed a sigh of relief once I saw the fish, it was clear, I slackened the line off and played the carp out under the rod tip. With a couple more attempts to get back to its sanctuary, it was safely in the Nsr50.
One of each side! To say I was over the moon was a bit of an understatement. It had been hard going these few weeks, with trying conditions as the pressure was high, over the 1030 MBs and I do believe I may just be staying in this swim for tonight.
After yet again spotting a carp showing in the same spot, I just had to reel my left-hand rod and give it a few hours, or until an angler sets up in the swim nearby.
Nothing happened this afternoon, there were still a few fish showing, they were very well spread out, and with the reduction of night anglers, I rebated both rods's a put them back to where I had reeled in from, hopefully this evening may produce a bite or two after today's activities.
After hearing a few carp top more over to my right, I decided at about 9 pm to move the left rod over to that area as well. This would also save me any issues with some going into one of the swims and casting over my line tomorrow morning, it would be a bit of a shame for both parties.
The night was completely bleep-free, which is definitely a pattern for me these days.
The above shot and all my recent photos have been taken on a Samsung S21 Ultra, the night shot feature is awesome and will definitely make a difference to my winter's blogs. The purists out there will be totally against phones as cameras, but I did start using an SLR back in the early 90s and then switched over to a DSLR sometime in the day to Canon 350d. Over time with the development of technology camera phones are something to behold. It has a 108-megapixel camera, I hate think how much a DSLR would set you back. I ended up switching over simply because of the amount of kit I was carrying about, I take photos, videos, write all my blogs and features on one device these day's. It fits in my pocket compared to huge camera bag and laptop bag, so you can understand why, I'm sure.
I'm very hopeful of morning take today and I'm going to hang around until 11 am in the hope of getting another bite.
I gave it until 11 am, but other than the bream first thing this, that was it and I headed home.
Until next time
Richard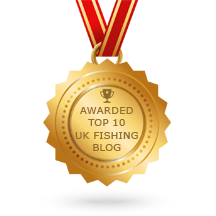 Use my code for 5% discount
The discount code applies to the entire order when purchasing the Deeper Sonars PRO, PRO+, PRO+ 2, CHIRP, CHIRP+, CHIRP 2, CHIRP+ 2. The code is valid in all countries.CODE DEEPER-H-SNL5Q