It's Monday again and I'm out on the School Lake. Apparently, the oxygen levels are low again, which is why the aerator is on. I was just about to go home and I decided to have a chat with one of the two guys fishing, you have no choice but to go through the gate to turn around. Whilst going there, I spotted a couple of fish crashing along the far bank, so, I carried on down and had a chat. I found out it wasn't that bad and that the aerator was more of a precautionary measure. I've forgotten what percentage he told me, but during my chat a couple more showed, this could have been the issue last week and I don't believe I spotted anything then. With this in mind, the barrow was out of the car and I was off down the bank to opposite where I had seen the carp.
One rod was up the margins to my left, with a couple of handfuls of pellets and some balled-up method-ready pellets. The other two were flicked over the other side, with a few boilies scattered along the margins to get any carp on the hunt. I'm being mindful of the situation and keeping the bait levels low.
Better get some food out for the robin!
It's just afternoon and still no action. I've been looking out for these carp, but still only seen them on the far margins. I'm thinking of a move, but I think I'm better placed here. I think if I get the chance to walk around here again this week, it may well be an option to look at the other end and try and spot them a bit more.
Despite the odd liner, it's starting to look like a blank is on the cards today and with 30 minutes before pack-up time, I can only hope these carp fancy something to eat, in the small amount of time I've left.
Until next time
Richard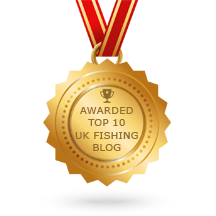 Use my code for 5% discount
The discount code applies to the entire order when purchasing the Deeper Sonars PRO, PRO+, PRO+ 2, CHIRP, CHIRP+, CHIRP 2, CHIRP+ 2. The code is valid in all countries.CODE DEEPER-H-SNL5Q