Now the world is getting back to normal, Pele from Spotted Fin thought it was about time the consultants had a few nights away testing some new products and get plenty of social media footage sorted out as it had been a long time since we had all got together. The location of this gathering, was Embryo North Bank lake, which is just outside of Whittelsty in Cambridgeshire.
We all arrived around the same time (12.30ish) and was met by the bailiff, Rich. He walked around the lake with us, explained the rules, how it had been fishing after this we drew our pegs and I picked Peg 2.
I had been studying this lake before hand, currently, there's not much information out there but with time, this will come. This swim gave me access to a long margin bank and open water, hopefully a few fish will come my way over the next 4 nights.
Night 1
I had a good look around with my Deeper, also flicked about with my marker rod, found a couple of nice margins spots and a interesting open water one.
My left hand rod hopefully was on the left hand hump and the other 2 where along the margins to my left, but quite a distance apart. All where baited with SF maize, Catalyst boilies and pellets, the right hand was going to be Classic Corn only.
The night was very bleep free – the carp were probably aware a new group had arrived. Finger's crossed, over the course of today, things will settle down and the carp will no doubt come out of their hideaways and have a munch. I heard a couple crash out in the night in front of the Peg 3 area, as I couldn't see them, I could not pin point them.
I'm sitting on my bucket, writing and watching drinking my 3rd cup of coffee, hoping to see some signs of carp and forming a plan of action for today. I'm thinking, if my rods could be in a better position and will definitely be going for a wonder about in the far corner by the gate. I'm sure that's where they could be hiding out.
Pele put the drone up, to give us all an overview of the swims we were fishing.
I was going to give it until 11am before I started to check out my swim a bit more, but I had a fish crash out to my left. I thought I'd better give it an hour before I reeled in and had a wonder about, with the marker rod. This would give me a couple of hours to get things sorted by about 2pm. The wind had picked up and the day had finally got a lot warmer than first thing
After spotting a carp crashing out in Peg 1 twice, I just had to give it an hour in there with a couple of rods.
Two ronnie's out, with a lump of paste around the hook baits was all I did. Unfortunately, I ran out of time. I really needed to get those rods out on the spots for a possible afternoon take or even evening as Luke had last night.
The sun is beating down on my left margins (where I'd spotted a carp this morning when I was taking a walk and leading about) I was still really confident of a bite however,
the air pressure is killing the fishing for us over these 4 days. We've found some fish and heard the odd crash out at night but none in the day really. The guys have seen them on the back of the wind yesterday morning and Matt spent the whole day over there without a sniff! They are incredibly cagey carp.
Thinking caps have got to be on today, if I'm going to snitch a bite. As there is not much to go on, at the moment, we are all spread about the lake, with plenty of water between us all, all trying different tactics, methods and depths. We have covered as much water as possible and they're not playing ball.
I've moved down the gate end of the lake for a few hours this afternoon, there's a lovely warm breeze blowing and an overcast afternoon forecast with the odd drop of rain. What is good news, is that I've seen carp showing to the left of me and in front of Peg 3 (where Neal is fishing), it's the most activity we've seen this end since we got here.
All I've done is flicked 3 rods out, each have a small mesh bag with 8mm Catalyst pellets soaked in Betafin, the 12mm pop ups are in various colours and I just hope one of these carp take a fancy to one or two if I'm lucky.
I was sitting well back from the waters edge, really hoping they would find it soon.
I'm back in my home and after seeing all those carp topping this afternoon, I've no real choice to get all 3 rods back over into gate corner. I may just see myself over their again tomorrow, but more of an earlier start!
I was up early, way before sunrise and the carp where clearly in the gate corner, but just not picking up baits still. This is really getting frustrating. The pressure is going up again today and then back down again overnight Thursday, I'm hoping they continue to at least show themselves. This does give away their location and I just have to hope that I'm in the right area, but just need to temp them into making a mistake.
The whole team has been working extremely hard to catch this week. We are all spread out nicely, fishing Pegs 2, 4, 5, 7, 8 and 9 and even spent some time in Peg 1 & 10 – during daylight hours. We moved around a lot in the far margins and bays hunting these carp out. We know where they are and have positioned our bait accordingly, but Mr Carp just ain't playing ball.
I never grow tired of sunrise and sunset photographs, you just can't beat them, they are all so stunning.
I now have all 3 rods on singles, all in the area of showing carp, that's the best I can do for this morning.
Just after 10am and it was time to get things sorted out, as I'd decided that I would bait the area where the carp had been showing quiet heavily and get the rods back out by 11am. This would give just under 24 hours with the rods in that area, the carp where clearly feeding out there and would be back in the course of the next 24 hours.
Just after 1230 there was a bit of commotion from Peg 6 – Matt had hooked and landed a carp from along the reeds. He had a nice mirror on the net. This was a great boost to the team, the carp where on a bit of a munch and the prospects for the next 24 hours was definitely looking on the up.
Later on in the day, I booted up the Deeper for a scan over my area, as the wind was pushing perfect and with one cast it drifted nicely over my swim. I found this lovely flat, pretty weed free area in 10 foot of water, bit deep, but another is worth a go.
I reeled my left had rod in, put a fresh bait on and then 'sticked' out some Classic Corn boilies, as I had changed over from a pop up to a wafter. Fingers crossed for tonight.
Just after 1730 ish, Neal appeared and said that Matt had had another one and this was a real beauty.
What a stunning carp! This was even more of a boost, we could all be in with a chance over the next 18 hours or so. It would be a real result if we could all catch a carp. Fingers crossed for tonight.
The night past by with odd carp crashing about – down mine and Neal's. I'm starting to believe they are all so preoccupied with the natural food source. My rods are going to stay place to the bitter end, in the hope that the carp get inquisitive and trip themselves up into picking one of my hook baits up. I feel that I've put in 100% effort in over the past four nights and have enjoyed every minute, despite the lack of carp.
I gave it until 0930, reeled in, did my goodbyes and with any luck the M25 would be favourable and I would be home by 2 pm
What have we learnt? High pressure is a hard time to fish – you can't pick the weather when you book up the lake, you just have to work at it and you never know. Well done to Luke Taylor And Matt Hollingsworth for bagging those four carp over these 4 nights, in these hard conditions.
But as this trip was not all about the carp. It was also about meeting the team, getting some media stuff done and playing around with products. That was achieved and a very positive note for the trip. It was definitely not a complete waste of time, I know these are not really the right words, as fishing is never a waste of time, you're always learning, pushing yourself, taking in the soundings, watching the wildlife and the world going around.
I definitely recommend this venue, despite the hard going conditions, there's plenty of space between the swims and a variety of different features to fish if you hunt about for them. The rules are straightforward, the compost toilets are perfect, the social hut and BBQ is all you need, and obviously great company.
Thank you #Teamfin, I had a great few days fishing.
Until next time
Richard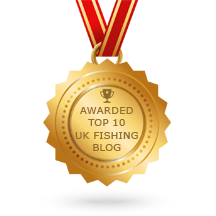 Use my code for 5% discount
The discount code applies to the entire order when purchasing the Deeper Sonars PRO, PRO+, PRO+ 2, CHIRP, CHIRP+, CHIRP 2, CHIRP+ 2. The code is valid in all countries.