It was time for a social with Ian, it had been over a month since we had the last one. Due to work commitments, I was unable to get down the lake until Friday afternoon, which was some 24 hours after Ian. This gave him the pick of the swims, however on the Airfield Lake, this really doesn't matter, as everyone's swim is good one. This is due to the carp moving about. I was happy with any some, as long as it was on the bigger part of the complex, as this is the area I'm focusing upon this season.
I spoke to Ian on Thursday night and he had gone in the double gravel swim and he was the only one on the complex – which sounded perfect. Unfortunately, by the time I arrived, there were another 5 Anglers about and my top pick (the swim from last week) was taken, so I dropped in next to Ian and see how it panned out. As it was a social, I would not doubt stay put, have a few glasses and have a laugh.
Not long after I arrived, Ian was into a nice carp and after a long fight it was in the netted. This was definitely a good sign for the next 24 hours.
I was fishing one rod in the normal spot for me on this swim and the other on a slightly different area. Which was towards the island, but not all the way and just off the side of a gravelly area in a silty area.
I had baited with 20mm Catalyst boilies and Pellets. I would be fishing a 20 Catalyst wafter tipped off with a bright coloured Go2 10mm wafter – strawberry being my favourite at the moment.
I was absolutely shattered after working and setting up in that heat, as the nights are drawing in, my head was on the pillow by quarter to nine. I awoke in the middle of the night to clear starry sky and then at first light to a beautiful sun rise over the lake.
I put the kettle on, watched the world go by listening to the wildlife and watching dawn turn in day. I was hoping there would be some cloud cover today as I felt it may be a bit hard going otherwise, the conditions where changing fast towards the coming heat wave.
The day past by with a gentle northerly breeze and no signs of carp what so ever, this was a bit of a surprise as I thought one would come my way during the morning feeding spell. I took the decision to leave my rod as they where for the next 24 hours. Ian had some bait he needed to use up, which he spombed out, this would also give us an indication if the carp are after food or not. As we went into the last night, I was full of anticipation, but by 8 am Sunday, I was starting to wonder if a blank was heading my way and with only a few hour's left that could be the case. The conditions had really changed since I arrived and I'm convinced that played it's part this session.
Mind you, the point of this weekend was a social with Ian. We spent all yesterday talking about fishing and stuff, having a few glasses of wine and had a great time. A carp would been a bonus for me, its not all about fishing – as I say a lot.
Until next time
Richard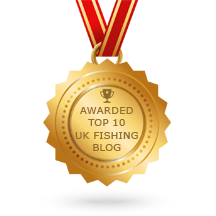 Share this: