Location – Meadow Lake
Hours Fished – 48 Hours
I'm back out for another few nights, in the hope of a winter carp.  it's still hard going, but you have to be in it to win it as they say.
I arrived down at just after 11 am and there was only one other person there who also looking around.  My decision was made easier by the estate lads felling the dead trees at one end of the lake.  There was a cold northerly blowing, not too strong, but it was very fresh with it in your face.  I felt that being in the calmer water would be my best option.
I finally picked a swim I felt confident in, I didn't see any signs of carp in my two trips around the lake.  I'd spent the last few days mixing up some particles and grinding up boilies in my Ridgemonkey chopper.  I only wanted to put out small particles as attraction and not that much of a food source.
I've just got a 12mm pop up on each rod as a hook bait and we shall see where things go from there.
With out a single bleep all night and awaking to thick fog today which was due to continue, it's going to be hard going to stay another night.  But you just can't tell, with these carp, when they will switch on, so I just have to stick it out.
I decided to top up the swim with a little bit more of my mixture and mix up the hook baits a bit (as the bites are slow).  I like to add some colour to try and get the carp's attention and if I'm lucky they will pick it up.
The night drifted by and I awoke to the sun coming over the tree's and into the bivvy door.  There's a Robin who is hopping about clearly eating up the crumbs.  A couple of bleeps on the left hand rod from the tufts on my bait, with a hard frosty morning, it certainly must be winter.
I have a few hours left, you just never know and can't lose faith.  You can get a take at anytime of the day, this time of the year, it a flat calm beautiful morning out here.
I stayed on for as long as I could and the lake did look very carpy.
But I had to reel in at some point and get myself homeward bound.  The car was due to be dropped off at the garage, as it wasn't enjoying the cold mornings and very nearly didn't start today.
I will be out soon and hopefully the carp will get their heads down soon.
Until next time
Stay safe
Richard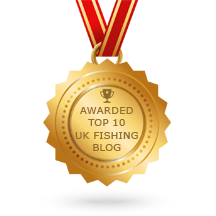 –