Location – Meadow Lake
Hours Fished – 69 Hours
On the eve of Lockdown 2 and I'm feeling lucky I'm still able to get on the bank.  I arrived just after noon, to a completely empty lake – with the exception of 1 day angler. I was quite surprised and really didn't know where to pitch up, so I got the Deeper out and tried to locate the fish or even some weed that hadn't died down.  I just couldn't really find anything to excite me.  I then thought about the wind direction and where I was more confident in fishing, so I decided to go for a swim I had finished in before was a good place to start.  I settled on a couple of suitable areas and got some bait out, I was going for a mixture of Catalyst and Classic Corn boilies this winter with various hook baits fished over the top.
As I hadn't been here for some months, I was going to take the baiting up slowly and I'm confident in the location of the carp.  As dusk creeped in, a few carp showed off by the far bank and to my right.  They started to drift closer and I was feeling confident they may head over to my side of the lake (if I was lucky).  The first take was just after 2115 hours, on the right rod (it was the closest in).  It was quite a confidence boost, the carp must have moved closer to this bank.  It was foggy so hard to work out where the carp were going and I couldn't pick out the rod tip to give me any clues.  However, with not much hassle, the carp was into the Nsr50 and my first Meadow carp was in the net.  This was my first trip back after pulling off to go on to the Airfield Lake in March.
25lb 8oz Common
That's made my trip.  It could of be easily been a blank after all this time away.  I didn't know where the carp have been caught from or even showing.  Unfortunately, just after 0100 hours, I lost a second carp on the right hand rod.  It made it to the overhanging tree's and pinged off – Arrgh!  With the bait back on the spot, that was the last action for the night and I was up early to top up the swim with 3 spombs for hopefully a morning take.
It was a cold misty morning, with a gentle NW wind blowing.  I did hear the odd fish crashing, however with the mist, I had no clue where they were  but it's a good sign.
Just after 1300 hours, I got the marker rod out as the lake was flat calm and I'd decided to put the left hand out long, to where I'd seen a lot of carp topping at dusk last night.  They clearly moved on to the short rod, because I had the two takes, but the other rod didn't bleep.  I had to change something about where that rod was positioned and putting it further out was my best solution and hopefully it would generate a take in the next 24 hours.  I was confident the other rod casting to the right was bang on and would certainly produce another carp. I spombed out more boilies over each area and then sorted out some lunch, chicken korma.  I like to eat a big meal in the afternoon during the winter as it's nice to sit out and enjoy the view etc.  The second night drifted by with not a single bleep and not a sign of a carp, this was a change from the day before.  I woke up to the third frost of the week, so I suppose it wasn't a surprise, I normally find that the carp aren't affected that quickly, but I still need to get into the groove of this lake again.
Today is going to be sunny again, the wind will swing to the east and pick up a bit, but the night temperature is due to be a lot warmer.  With that east wind blowing, I think it's going to be another tricky 24 hours.  Being Friday a few anglers started to rock up and I decided that I would stick 4 spombs over each area.  You never know if the carp have done you and I will re fresh the baits at 1430, as we may as well all disturb the water at the same time – makes sense to me.  The east wind had arrived and I had spent over an hour drifting my Deeper Chirp about.  With only one cast and the east wind, I could simply let it drift out and reel it back again without the need for many casts and zero disturbance.
The last night was very silent again and I think the carp are aware of the pending drop in temperature so are just holding back for that moment when they feel it's the right time to feed.  The lake gave up one of its treasures and nearly another one, so I'm grateful for that and shouldn't complain, its always great to be out on the bank in these trying times.
Until next time
Stay safe
Richard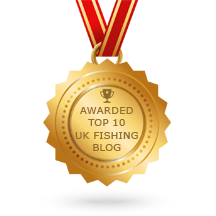 –