Location – Airfield Lake
Hours Fished –  70 hours
I met Ian at the gate mid morning and we drove around looking at our options.  There were a few anglers on the lake and a couple packing up.  Autumn has certainly started to bring them back out onto the Airfield lake, after a bit of time we finally came to a decision on the best available area.  Ian dropped into the swim where I was last time and I dropped into the one to his right.  It was the ideal solution and we could bait up the same area and stick a rod on each end as we normal do.  I needed waders on at all the time, I have come accustomed to wearing them all day long and pulling them on at night.
I had switched back over to 12mm Classic Corn boilies, a helping of maize and I was fishing 12/15mm CC wafters on both rods.
I checked on the Deeper lakebook page, measured out the distance and direction to a perfect spot and got the marker rod bang on the spot first time.  I'd filled in a lot of the gaps when I was out the last time – by drifting the Deeper over my line.  This is the beauty of them, you can cast out once and let them drift about with absolutely no disturbances, other than the initial cast, I even had a take while I was doing that on my last trip.
Last night was not the best start to my session, no takes in the night and a belter first thing this morning which felt like a nice fish, until the moment the hook pulled out.  I was having to apply a lot of side strain to stop the carp gaining ground on me otherwise it would have found the snags to my right.  I suppose it was only going to end one way or another.
I wound in just after midday, topped up the swim and popped over for a chat with Ian.  He had managed a 10 lber just after 9 am, we sat talking until just after 3 pm and then I headed back over to my swim.  I flicked the rod out and got some late lunch/early tea on the go.
I went to bed quite early this evening as I wasn't feeling a 100%, it's never a good thing when you are on the bank, you need to put a 100% into your efforts.
I laid in bed this morning as I was woken up by a local shoot over the back of the lake.  I was feeling a lot better after another full nights slept.  This was good in one way, but clearly the carp were not over this side of the lake at night.  There had been rain at some point, which I did think it may switch them on.  I'm still hoping for my early morning take at around the same time as yesterday's lost fish.  As I was just finishing the paragraph, I managed to get this one in the net!
12lb 13oz Common
Spotted Fin Classic Corn wafter picking up yet another carp for me.
After getting the second brew of the day on and the rod back on the spot, I was looking at the weather forecast and thinking there was a small chance of another bite this morning.
Dam boulders in here!  Just lost a carp!  The problem was, I needed to put on side strain to avoid the snags to my right, but I need the rod tip up to avoid the shallow plateau.  I felt the lead knock and lifted the tip up and avoid that one, but the carp was powering in towards the bank still, so more side strain was needed, it knocked again and the hook pulled out.  I'm 100% convinced they are aware of their actions and the ability to knock the hooks out.
3 takes so far and only one landed – not a good average this session.  They start off by heading left and quickly turn right once they are halfway in, they can get to the snags quicker.  I waded out and got wet trying to gain ground, not a happy camper.
After having another brew and calming down, I got the rod back out again.
At just after 1 pm I reeled in and put a couple of spombs out.  I headed over to Ian's swim for a drink and a chat for the afternoon to give the swim a rest.
The fourth take of the trip happened just after I had got the rods out.
Just over 10 lb if I'm lucky.  This fish is very welcome after the lost two, it starts to give you hope and your going in a more positive direction.  Mind you, it did manage to get under the tree to my left, but by sticking the tip of the rod right underneath it and down to the bottom of the lake, I kept it away from the underwater branches.
With everything all sorted out, it was time for something to eat.
Its amazing how the carp have completely stopped feeding at night for Ian and I over the past couple of weeks.  I've had a bleep less night yet again and I'm hoping for a last minute take, before home time, but time is not on my side.
Unfortunately it was not to be, I can't complain, 4 takes again this weekend.
Until next time
Richard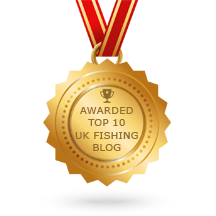 Please subscribe to my Video Diary
Consultant For

Sponsored By

Please follow my Facebook Pages