Location – Airfield Lake
Hours Fished –  71 hours
Ian and I are back down the Airfield Lake for another 3 nights.  We are in the hope of finding better and bigger fish.  We've moved area and are fishing into different lakes, but our bivvies nearly back onto each other.
I'm feeling quite lucky as I'm fishing across to a point where I can simply get the bait out with a spoon and then cast over there!  I'm not using bags this week as when the wind picks up, I'll have no chance of getting them out there.
The storm arrived just after 0300 and boy did it shake!  I needed a couple of pegs redoing and I managed to get some sleep in (I think).
I patiently waited all night for the morning take, which happened just after 0730.  The carp headed out and towards the shallow plateau, it found a couple of boulders and managed to bump the hook out.
Not good.
With a new bait on and checking the hook (which was perfect), they just know where to go to avoid capture.
During the mid-morning, I decided that if I was going to get any sleep (which is vital in my book for successful fish), I needed to move out of direct contact with the wind.  So, with this in mind, I had a look at another swim down from Ian which was just perfect.  However, I didn't fancy moving in on Ian's water, he'd already had 4 takes!  He only landed 2 carp.  I also felt very confident with my choice of swim and still felt that I needed to stay in the area.  After looking 30 feet to my right and making a new path through the vegetation to get my rods on the water.  I just couldn't stand to be too far away from them, this area felt the better and more confident solution.  I was completely out of the wind, the funny thing is, I nearly pitched up here yesterday.  The wind was supposed to swing West, this was not the case as it stayed Southwest all the time, with gusts up to 50mph, not much fun.
I then set about topping up the swim and get fresh hook baits on.  I needed to step up the lead size as it was like fishing the sea – let's hope this afternoon and tonight bring more success.
My second take happened just after midnight the second night and was a lot less aggro than the first.  I, unfortunately, picked up the line from the right-hand rod, that will teach me to lower my rod tips down.
16lb 11oz Mirror
I managed to get both rods back out in the wind and they were looking ok, which was a surprise as the wind was pushing hard into my face.  It was hard to make out the tree-line as it was a very dark night and there is no light pollution about.
My third take happened at 0630 with a couple of bleeps.  I ran to the rod and it was as though nothing had happened, had I dreamed the bleeps?  It then dropped back, I grabbed the rod and pulled into a small carp, at the same moment the other rod ripped off.  After my cast out last night, there was a slim possibility that I was fishing very close to my other rod.  Had it been picked up? I took the chance to get the smaller one in as the other one just stopped, maybe that's what had happened.  Once that one was safely in the net, I picked the other rod up, and would you believe it?  There was another carp on there, that was a pretty straight forward fight to the net.
The results of take 3 & 4.  You can't choose what picks up your bait and this place, unfortunately, has some very small carp in it still.  They've tried netting them to a degree of success, however, they just escape capture.
With everything sorted, it was 0700 and time to watch the lake for carpy signs with a coffee in my hand.
My fifth take happened after 0930 and completely out of the blue.  It started heading out towards the plateau, this time, I held the rod tip as high as possible to try and avoid any contact with those boulders.  It worked well this time but I managed to pick up the other line again, this was soon sorted out – thanks to Ian.  I was now in control of the carp in the margins and slowly played the carp out until it slipped into the Nsr50.
20lb 9oz Common
Both rods were sorted and back out, so I settled down for another brew.
At noontime, I topped up the swim for the final night and redid both rods with fresh bait.  I took a walk for an hour to rest the swim before getting the rods back on the spot, for the afternoon and night.  I'm very confident for another bite or two, just as long as I can avoid those boulders, I've got a good chance.
The night was completely void of bleeps, fishing crashing – very strange indeed.  It could be down to the volume of anglers fishing the middle lake.  I know 3 isn't a lot but it's two more than normal.
It's been a productive few nights and I'm looking forward to the next.
Until then
Richard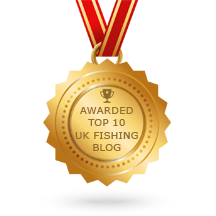 Please subscribe to my Video Diary
Consultant For

Sponsored By

Please follow my Facebook Pages