Location – Meadow Lake
Hours Fished – 41 hours
After last week's success, I was incredibly keen (to say the least) to get back into the same swim. They were clearly held up in that area of the lake and it was only a matter of time before one of the big girls picked up a bite. I was planning on it being my bait. I managed to organize a friend to collect the kids from school on Friday, so my plan was to arrive at about 0930 Friday morning. However, as the week progressed, Saturday night looked horrendous with heavy rain and 60mph wind and I'm not that stupid anymore, well some times maybe. So, with the goodness of my wife's heart, she let me go Thursday after she had got home. This would give me 2 nights on the lake and hopefully a better chance to get into that swim. I arrived at around 1845 and there was only one other member on the lake and nope he was not in that swim. I quickly set camp up and set about spombing out a good load of Classic Corn boilies and particle blend soaked in Classic Corn syrup, into the darkness onto my spots.
This is pretty simple on a moonlit night and using the horizon markers. You need you also need to have confidence in your casting skills. Once that was done getting both rods onto the area. One had a Classic Corn wafter and the other had a 12 mm 'pps' pop up which looks great. Just about 20 minutes, the left rod absolutely screamed off and I was into a nice lump of a carp who plodded about and slipped into the Nsr50. I just couldn't believe it, what a start to a session!
39lb 5oz Mirror
Really an amazing carp.
The rod was back out on the spot, I just sat back and soaked up the feeling.
The second take of the trip happened just before 5am, it was freezing out there there was frost everywhere. I slowly managed to get another carp into the Nsr50, with no real issues. After a quick vid and some snaps, another lovely mirror was back home.
17lb 5oz mirror
The time I had written this and tidied up, it was coming up to 6am and -2 outside (brrr). The third take of session happened just before 9am and this was a lot harder fighting carp. I'm glad it was daylight, as this helped me avoid that horrendous snag to my right. Once that was avoided, it was pretty straight forward – play the carp out under the rod tip and then slip it into the Nsr.
26lb 5oz Common
I'm quite stunned at my results from this swim/session and I really need to keep my head together and not get to overwhelmed with it all. I took the opportunity to bait up the swim again and rebait the other rod. This oddly hadn't produced a take and that was the main one last week! The carp must have moved off to the right more.
The fourth take happened, just after 1015. To catch in daylight just makes life better, it was a great help today. This fish was clearly intent on getting under the overhanging bushes and even found a big weed bed to my right twice! It was completely enveloped in weed when I managed to get the fish (and the weed) into the Nsr50, to my great relief.
36lb 12oz common
I safely returned the fish and had a sip of my now cold coffee. I got the rod back out on the spot and sat back a soaked up the moment. The fifth taken happened just after 3 pm and if it wasn't for another syndicate member talking to me at the time I would have not noticed as my remote was on low. That was lucky. I soon had another nice Common in the net.
29lb 14oz common
With the rod back out, it was worth putting a few more spombs of bait out for the night. But before I even got the spomb cast out, the rods were off again! Just unbelievable! I'm up to six fish and just can't believe how well my session is going. I've now managed to get the rest of the bait out into the swim for the night.
13lber Common
With a lovely bank of cloud coming over the lake tonight, it will certainly be a lot warmer. Just after 11 pm, I had a bream, it was similar to the size of the one I had last week. Somehow, this one managed to tangle up with my other line and caused a wipeout of both rods! I now need to redo both rods. It was gone midnight before I was back in the sack and getting my head down. I fell asleep listening to the rain, one of the light showers forecast over the course of the night. At 6 am, I had another bream. It was looking like the carp had moved off the spot. Dawn was just around the corner and with the activity, I received in the daylight hours yesterday you never can tell.
With only a few hours before I head home, I'm sitting on my bedchair writing this and reflecting on what an amazing session this has been. More importantly, a big thanks to my family for sorting things out so I could get down the lake 24 hours earlier than normal. It resulted in these incredible captures. Otherwise, I would've arrived at 7 pm Friday night and only had bream. I could have completely missed out on all the action, it's amazing how luck can play a part on your fishing, some or even all of the time.
Until next time
Richard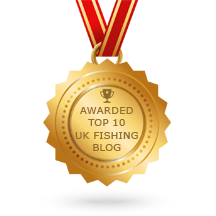 Please subscribe to my Video Diary
Consultant For
Sponsored By