Location – Headlands Farm Fisherys
Hours Fished – 12 hours
I'm out today on a day ticket water with an old work colleague.  It's a lovely place called Headlands Fisherys and it's in Wellow, Hampshire.  There are even lodges to say in!  It has plenty of swims, when we arrived at 7am there were only 4 other cars in the car park.  They where all fishing at the end – it's much more open.  We found a lovely area with a couple of islands and a backchannel that leads up past the lodge swim.  The weather conditions are perfect, so let's hope we can catch a couple each.
My left hand rod is on the corner of an island; nicely cast under the overhanging willow branches with a scattering of 8mm Catalyst pellets, a few 12mm Catalyst boilies and I'm fishing a Classic Corn wafter over the top.  The right rod is straight out into a bay just in front of some reeds (just perfect), this just has the 12mm boilies, as I was having catapult issues and my hook bait was a Masala Spice wafter.  I'm planning on mixing it up a bit and change around the hook baits until I find want works best.
My first take happened just before 11am on a recast and a change of wafter over to a Miracle Berry.  The adjustment was to where I was fishing on the drop off of the island.
12lb 14oz Common
Lets hope its the first of many and my friend can catch one as well, it's always nice to both catch on a social day session.
The rig was back on the spot and topped up with a few more 6mm Catalyst pellets.
My second take was on the right hand rod and had a much better fight with this.
13lb 12oz Mirror
Very happy with that result and nice to catch a mirror carp for once.  The rod back went back on the spot and I catapult a few more boilies out and got the coffee on.
My next take was a few hour's later, but on the left hand rod.  I had just reeled the right hand one in as I was fed up with the duck's, who had recently discovered my rods location and just would not give up.  So time to move it.  I think the best option is to fit both across the front of the island as it's clearly the most productive spot.
21lb 9oz Common
This one tried to go left up the channel, I had no option but to sink the tip to the bottom and slowly pump the fish under the overhanging willow tree.
After getting the rods back out there, I raised the tips up, put the butts on the floor and slack lined it, so not to spook them from feeding.  I catapulting some more Catalyst pellets out, which I had soaked in the Catalyst food dip and changed both rods over to the Miracle Berry wafters.
That was it for me, but my friend managed a 14lber just before pack up time.
Until next time
Richard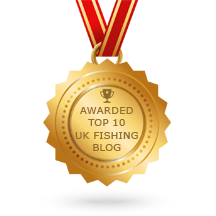 Please subscribe to my Video Diary
Consultant For

Sponsored By

Please follow my Facebook Pages