Location – Airfield Lake
Hours Fished – 68 hours
I was determined to fish another swim this trip.  I need to understand how the carp behave on this particular part of the lake.  I was hoping as Meadow Lake had opened up on the 16th June, the anglers would be more spread out over the whole complex and for the first week more focused on the opening of Meadow.
I arrived just before noon and much to my surprise there was only one car on the whole complex and it was in the car park for the bottom lake.  I knew who it was and where he would be, so with this bit of information, I had plenty of options.  I'd been looking at the weather and it was due to swing around to the S/W but not very strong.  I fancied the wind ward bank, as the pressure was going to be steady
I settled for a swim I'd not fished before, but one rod is on an area I'd previously caught from on my second trip this year.  Oddly, not had the chance to get back in there.
The left hand rod was along the margins off the side of the last point swim, which was leading into a bay that the carp just love.  However, there's 5 or 6 concrete blocks the carp find every time you get a take.  It's best as a day swim and has produced very well over the years.
The right hand rod is over a 6ft bar dropping down to 8ft of water, which just has to be the perfect area.
I've slightly changed my approach to baiting up on this lake.  I wasn't going to do it until 8 pm, so I just flicked a couple of ronnie rigs on the spot.  Both baited with a 15mm Cork Wafter and a 12mm Pink pop up (both are from the Catalyst range).  I would bait the swim at 8pm with a mixture of chopped Catalyst boilies and hemp, all soaked in the Catalyst food dip since first thing Monday morning.  I like to prep my freebies a few day's in advance, so they can soak in the extra goodness from the food dip and also to start breaking down.
That look's perfect.  Let's hope the birds keep away this week.
The afternoon and evening was very pleasant and relaxing.  I was hoping for an early session take, but alas it didn't happen and the night continued to be the same.  When I awoke in the morning, it was a completely different day to that was forecast.  The gentle patter of rain awoke me and I was welcomed to an overcast and misty morning.
I checked the forecast; there was rain for most of the day.  This was not forecast at all.  I wish I'd brought the over wrap, it gives me a bit more room and the extra space certainly helps on very wet day.
It rained from early doors until just before 4pm, so I quickly refreshed my rods with new hook baits and hoped for an early evening take.
It was a pleasant evening but still no takes.  I topped up the swim (the Tufted Duck's had be helping themselves on and off through the day) and just before 8 pm the rain arrived again, but it was only light drizzle.  I woke sometime in the night with it absolutely belting down and carried on for a fair few hours.  When it did ease off, you could hear the odd carp crashing out.  Just before 4 am, the right hand rod belted off and I was attached to a very wild Airfield Common around the 8lb/10lb mark.
A welcome blank saver.  This heavy rain, which had come back again, was clearly not helping.  With the rod back out, the rain was still due to pour down for a few more hours.
I thought it best to get my head down, it hadn't been the best night kip.  It's always good to keep your head in the game and not be worn out, this does you no favours in my opinion.  It's just like being at work, you don't perform your best when your half asleep.  The rain finally stopped at just after 10 am and the conditions were looking pretty good for the day – we'll just have to see how the fish react to the change in weather.
The sun came out.  It's certainly nice to dry the kit out, go for a walk, stretch my legs and put some thought into my last night.  I felt the margins were just not going to happen.  I'd seen carp showing further out and that's where I'd heard them overnight.  It's worth putting a bait out there this afternoon in anticipation.  However, it was hard going to get the spomb out there, the wind had picked up a lot and there was a good cross wind.  It slowly swung round into my face and my confidence was lifting all the time.
I rearranged the rods set up and sat back waiting for some action.
That was another incredibly peaceful night on the buzzer front.  The carp are clearly on naturals, as they where going wild again last night, crashing about, but one fish is better than a blank.
Until next time
Richard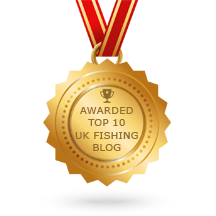 Please subscribe to my Video Diary
Consultant For

Sponsored By

Please follow my Facebook Pages