Location – Airfield Lake
Hours Fished – 64 hours
I now have the opportunity to fish Wednesday till Saturday, the wife has been furloughed, so she is the substitute teacher.  I'm planning on taking full advantage of this over the next 3 weeks, when possible.
After getting my gardening job's done, I was back home, the tackle was in the car and I was on my way.  After a long conversation with a fellow member, I was up to date with the lake and could formulate a plan on the way there.  I headed straight for the car park I was interested in and there were still only 2 cars in it.  I dropped my bivvy off in my first choice and popped around to another swim occupied by another member.  I stood talking to him watching carp topping all over the area where I was thinking about fishing – think my mind was made up.
It was the same swim as last week and if you remember, the carp were doing the same thing.  This time I was going to fish both rods a lot closer to my bank and move one rod about as before.  I may leave that until the last night, this time.
I've gone back to the Classic Corn mixed with Maize and micro pellets soaked in CSL for a few days.  I'm feeling the carp are on more natural baits at the moment.
Other than a couple of bleeps in the night, it was uneventful and feeding time was nearly over.  There was the odd heavy shower overnight and today was going to be much of the same.
Just before 10.00, the left-hand rod was away, it was attached with a very hard fighting carp.  It was determined to get under the overhanging trees to my left.  Luckily, there's a lot of depth there and I gained line until the fish was in front of me (and a bit more under control).  It hadn't given up and was still focused on that margin as a way to escape.  I wasn't having it and finally took control of the fight – I slipped the fish into the Nsr.
16lb 12oz Common
When the rod was back on the spot, it was time for another brew.  I was well chuffed with that result.
Just after noon, the right-hand rod burst into life, and a torpedo headed out into open water.  It managed to pick up the other line on its way by (which was quickly sorted), before the fish headed for that tree!  It must've covered a 100 yards, very quickly, and once out of danger from the tree, it was off into open water.  It promptly picked up the other line again.  There was just no option at this point, as I was up to my thighs in the lake, so it was impossible to sort the lines out.  I just slowly carried on playing the carp towards the Nsr50 and soon it was safely in there.
19lb 11oz Common
Very happy with that.  It has been a long time since I've had a pick up during the day, it was looking promising.
With all the rain this afternoon, I've only just managed to bait up and it's just gone 7 pm.  You never know, it could make all the difference.  Time for some soup and bread – living it up this week!
It certainly poured down
The night passed by again with no action and I'm waiting for the day time bites.  This has certainly made my mind up for the last night.  I will be putting the rods back on the original tree line spots.  I need to be gone by 9 am tomorrow morning, which is certainly before day time feeding hours.
After the rain had past over, I got both rods on the tree line for the afternoon and evening, hoping for an early evening run.  This run finally happened just after 10 pm, to the right-hand rod, and after a very uneventful fight the fish was in the net.
15lb 11oz Common
That will do me and plenty of time for another few (if I'm lucky).  The rod was back on the spot and after writing my blog update, I thought it best to get my head down.
I was very confident of another take between 6 am/8 am.  However, that was not that case, despite seeing carp on the tree line.  It was soon pack up time and back home for some family time at the weekend.
Until next time
Stay safe
Richard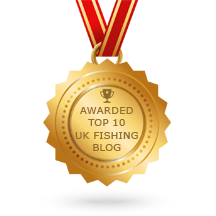 Please subscribe to my Video Diary
Consultant For

Sponsored By

Please follow my Facebook Pages