Location – Airfield Lake
Hours Fished – 64 hours
With the weather conditions turning so much the lake was calling me and after lots of persuasion, the wife kindly agreed (she is my editor and my disagree). I managed to get down the lake by 1630 and I probably owe her lots.  Better catch and make it worth my effort.
I was heading for the same lake with a couple of swim options in mind, when I arrived they were all free, so was a bit lost for some time.  After watching the carp showing over the area where I'd fished last week, I decided to go be to that swim.  I also had the ability not to be cut off from the action if the lake filled up.  The weather was just going to be amazing, the pressure had gone from 1023 to 1006 overnight.  On Wednesday morning, there was a good cloud cover, light rain for a good part of the day and the coming day were going to be similar.
This week I'd soaked up some 20mm Catalyst, just in case the wildlife had found my spot.  For the first night, I like to fish one spot and move on from there.  This is something I've not spoken about before, but if I'm doing more than one night I prefer to put all the rods on one spot and then move on from there.  Unless you are extremely familiar with the swim.  You can easily bait up two or three spots depending on the number of rods you can use and then realize (as you spend time in the swim), that you've got it wrong and need to move rods and there is unwanted bait in the swim, which is not ideal.
With that in mind, I spombed out 3 kilos of Catalyst boilies and fished both rods on 15mm Catalyst wafter.  As the evening progressed, it was becoming clear that some carp were passing closer in than the previous trip.  I'd probably found my second-rod spot, quite quickly, and would get the Deeper out to find out what my opportunity there were.
The first night was bleep-less, which was very unexpected after seeing all the carp showing pretty much everywhere, there was certainly less of this after last night.  I'm definitely thinking of moving one rod a lot closer this afternoon.
I popped out to get supplies just before 11.00 after I'd located a closer in feature which was about where I'd seen the fish showing last night.  I put about a kilo on that spot and put the rest of the bucket on the original spot from last week's session.  If this fails tonight I will be very surprised, but you never know and that's fishing.
This trip is turning into a real headbanger, with no action for the second night and the conditions couldn't be better.  The carp certainly don't feel that way, they are clearly about but just not on the bait.
I'm going to have to put a lot of thought into what I do today – cut my losses and head home or stay.  This would be ironic after all the fuss I made about going as the conditions are perfect.  The pressure has now dropped to 997 mb, with lots of cloud cover and a good wind on the lake.  Compared to last week's flat calm, roasting heatwave.
I will have to weigh up my opinions this morning.  At noontime, I headed off for a walkabout and came back revitalized.  After watching the carp showing this morning, not too far away, I felt that adjusting the range of one rod further out and switching back to the point of the bay.  It had produced me a couple of carp the last trip, so it must be a good option for the last night.  There'd been a couple of good heavy rain showers which will definitely revitalize the lake and hopefully switch them back on the feed over the next 24 hours.
I sat watching the lake and hoping it would pay off in the end, otherwise, I'd never hear that last of it from the family, and could you really blame them?  All that fuss to go in the perfect conditions and I blanked, that just couldn't happen, could it?
I was staring out around 0500 thinking it's not over yet.  The most productive time for the lakes at the moment is now.  I drifted off to sleep again and my dreams where interrupted by a belting take on the right-hand rod, which had been positioned in the bay to my right.  I was on the rod like a whippet and bent into a Airfield Lake carp at last!  It was kiting right, which is not a great issue, as long as you keep a tight line to the fish, as it will just run out of water and head back out into open. I played it towards the net, once played out, it slipped into the Nsr 50 and I was very happy.
17lb 11oz Common
With the rod back on the spot, it was time for a brew and the possibility of another carp (if I'm lucky), as there is a good could of hours feeding time to go.
The next take was at 0740.  Unfortunately, I didn't fair so well with this one.  It managed to gain ground and find a nice snag to get its head into and then came the inevitable.  After a new rig was made, the bait was back on spot.  With only an hour to go, it was going to be tricky, to get another one.
It certainly looks like I had had my two chances this morning and I'm happy with that.  It could of so easily been a blank trip.
Until next time
Stay safe
Richard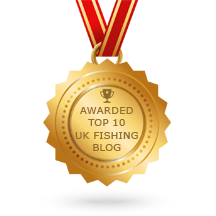 Please subscribe to my Video Diary
Consultant For

Sponsored By

Please follow my Facebook Pages