Location – Airfield Lake
Hours Fished – 65 hours
I didn't expect to be out so soon again.  The wife and kids were happy for me to go out again, so I'm happy too and back down the lake again.
I did fancy going in the swim I fished last time, but just too many people on that lake, as there is plenty of room – 64 acres to play with, it seemed a bit silly.
After what felt like a life time of confusion and not really feeling the love for anywhere, I settled for a swim on one of the island.  This definitely conforms to social distancing!  There is only one swim one island – sorted!
By the time I has decided this, it was getting late, so I refured back to my lakebook for the readings from around the island and was very happy to find a lovely gully off the side of the island.  This felt like a perfect interception route.
I baited this area pretty heavily with a mixture of particle and Classic Corn boilies, and fished two wafters over the area.  I had baited the front of the island all the way along, where this gully was – in an attempt to hold any carp moving through.
I enjoyed another lovely Airfield Lake sunset and drifted off to sleep.  I was awoken by a belter of a run on my left rod, which proceeded to find one of the many boulders which litter the Airfield Lake, one of the remnants of its past life.
With the rod re done, I was back in my pit with the stove on and a brew underway.  I was enjoying the fresh, but stunning start to the day.  I lost a carp to a snag this morning,  so I've disided that I'm going to move that rod to a different spot where I've bank carp from in the past.  I will leave the other rod where it is.
After a great deal of marking, getting the Deeper out and viewing the data, there was clearly no point in casting to the island.  There is a 2.5ft bar dropping down into the 5ft gully I had found – no wonder I'd lost a fish.  A lot of the bars are littered with boulders and your line gets drag under them; there's to much wildlife to use braid.  So, I've gone back to a couple of old areas that have produced and fingers crossed for another take, we shall have to see what this afternoon/evening brings.
The rest of the day passed by with no action and I watched another stunning sunset and I headed into my second night.  This was pretty peaceful, but as the morning slowly dawned there was the odd crashing carp and I felt there could be a chance this morning.  It's pretty over cast at the moment, the last few days have been particularly hot and sunny.
Some more thought needs to go into today's options stay, move or go home.
Do I moved rods around again?  Seems pointless as would be adding more bait to the swim.  But I need to find a productive spot and area on this lake, as I'm planning on being on here all season this year.
One change was made today, I moved one of the rods off an area, where I was getting plagued by the Tufftes and there was just no point in trying to keep them away.  This rod was moved into the margins and I added 2 spombs for attraction, and just rebaited the other rod.  I wasn't going to put any more bait out, as I felt there was no real need, fingers crossed for the last night.
The night passed by slowly, there was plenty of carp activity all about, but just no action on the rods.  This was a shame as I was really confident.  I was up pretty early as it was my last morning watching the lake – it had gone quite again.  There was a gentle blow from the south west and the prospects of another hot day.  The pressure also up to 1025mbs, so it was never going to be an easy fishing weekend.  To get a take the first night and lose it wasn't very helpful, but as I haven't been fishing since the 22nd March who could a complain?  3 nights on an island away from the world and only spoke to two other people at a safe distance, was just what I needed.
Until next time
Stay safe
Richard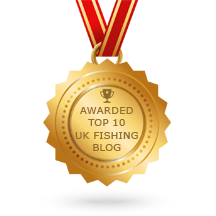 Please subscribe to my Video Diary
Consultant For

Sponsored By

Please follow my Facebook Pages