Location – Airfield Lake
Hours Fished – 18 hours
Well, where do I start?  Sad times indeed but hopefully we are now heading in the right direction.  I'm sure COVID 19 has changed the world, maybe for the better, but I don't think I will find this out in my lifetime.  Well, my garden and garage are all pretty tidy and homeschooling is fun, I take my hat off to all teachers.
With Lockdown eased and angling on the ok to-do list, I was soon on the bank.  I was not going to join the mad rush; my syndicate isn't like that.  Social distancing is not an issue as most swim are 30 meters+ apart.  In fact, there is only 32 ish swims on 64 acres of lake, with plenty of hideaway car parks.  I really had no idea where to go, when this is the case, I returned to the swim I had been fishing before lockdown.  I felt it was the best option and a good place to start from, I knew the spots – in fact, my spomb rod was still clipped up, from my last trip.
I also had new rigs on and were set up with 2 Classic Corn pop-ups, my rods were soon back on the mark.  Brolly was up and normal service could resume.  I find with fishing, I'm locked away from the rest of the world in my own little bubble and I'm so fixated with catching, everything else fades away (until I'm back in the car).  I think the next few trips will do me just perfectly and restore some order to my mind.  It was nice seeing the sunset over the lake this evening, it certainly feels like a long time, since I have seen this. We are due a cold night and the pressure is 1018mb,  so you never know, there may be a chance of a frost as well.  As we are in May and the carp feed to fill up before spawning time.  I had a couple of bleeps in the night but it was over too soon and a frosty pack up was underway.
Until next time
Stay safe
Richard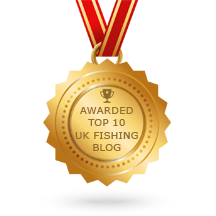 Please subscribe to my Video Diary
Consultant For

Sponsored By

Please follow my Facebook Pages