Please note that this session was done before the current Corona lockdown.
Location – School Lake
Hours – 5 Hrs 
It can be a bonus arriving at 0900 after everyone else has arrived and set up!  You can head straight for an area away from everyone else.  This also reduces the chance of being disturbed by others.  I find this key to success on club lakes.  However, there is a bit of a pattern forming, yet again I'm in the same swim.  Lucky for me, I quite like and today there appears to be quite a few carp about and they are on the surface.  There are a few ducks on here, which could cause an issue but I may just have to bring the floater kit with me or even try zigs.  But today I've gone for bags.  About 2-rod lengths out and filled with Catalyst pellets soaked in the Catalyst syrup for the past few months.  They are lovely and sticky/gooey, just perfect for attracting the carp down to feed.  I'm still using a Classic Corn wafter, they just love them.  At 0945, the right rod bursts into life with a reasonable carp on, that is until the hook pulls out.  That's not the best start.  With the opportunity to move up to the island, the angler who was up that way has gone home.  After seeing a nice lump in the snags, it must be worth a go and I can still put a bit into the area where I was previously fishing.  It's the best of both worlds.  Now, this trip is really not going my way, I've just lost another carp in a snag which I didn't know about.  This has really hacked me off and has almost made the island an area I'm not prepared to fish anymore.  Fish safety should always come first and if a swim has a snag that clearly is unfishable, I just don't fish there anymore.
I'm now casting off the end of the island and on to the spot where I was fishing first thing this morning.  I need to put some thought into my next option.  As I'm pretty close to going home time, as my head is not in the right place and it needs to be for these short sessions.  With 2 hours left to go and change of swim, a fresh start can't be a bad approach and if I'm lucky I could save a blank.  Just after 1300, the left rod was away and amazingly this one made it to the net, I was bordering on packing but felt there wasn't much else to do, I'm glad I stayed.
That's much better and even a chance of another one, that would be nice.
And as luck would have it another carp graced the net!  They are certainly waking up in here and it may just be worth another trip before the end of the week.  I've only got another 30 minutes to go.  It certainly does prove that you can turn a disaster back into a successful session.
Until next time
Stay Safe
Richard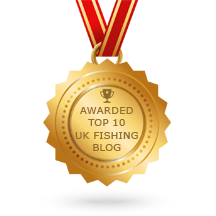 Please subscribe to my Video Diary
Sponsored By