Please note that this session was done before the current Corona lockdown.
I was given the opportunity to fish two nights this weekend.  I'd originally planned on arriving Saturday am, but after a friend asked if the youngest daughter would like to come over for tea straight after school.  What else could I say, but YES!  Oh, and thank you.
I quickly sorted some kit out, popped to the shop on the way down and arrived at noontime.  I was completely shocked by the volume of anglers on the lake, must be Spring.
After a good think and a chat with the anglers, I opted to move in after someone packed up.  I felt it would give me the best option.  I wasn't 100% convinced of my choice, but it put me closer to where I thought the bulk of the carp were held up.  I did see a couple of flicks on the surface and the spot I had picked had produced carp before for me.
I flicked the lead about looking for the spot I was after, I also looked on the Deeper Lakebook for something different in the area.  Once this had been located, I piled in a good load of Classic Corn and Particle blend, I also put on some new Ronnie rigs I'd tied up in the week at home.  I've been using a combined style for most of the Winter with great success, 6 inches of Sf Chod filament and 1 inch of soft Fin skin, with a size 4 curved shank turning point hook, a Classic Corn wafter with a 12mm pop up on top.  This sits up perfectly and the hook hold is pukka.
Just before 3 am, I had a couple of bleeps, the bobbin pulled up to the top and held there, I picked the rod up and pulled into a Tench.  It was a nice one at that, probably should have weighed it, but it was freezing and I just wanted to get the rod out there on the spot again.
With that, all sorted it was time to grab some shut-eye.
With another Tench sometime in the night and getting an absolute belter at 0830 that the hook pulled out of, it was a sleepless night with not much reward.  Once I got my head together after a brew – at least I was fishing a feeding area.  I had the potential to produce more takes, this is definitely a good sign, rather than a complete lack of action.
I rebaited both rods after I lost that one and then topped the swim up with more bait just before 1000.  This would do me for the day and night, hopefully, with the lack of disturbance over the next 24 hours, it will produce me a carp or two.  The weather is getting warmer and there's some rain overnight.  The pressure has risen a lot over the past 24 hours but will drop back over the next 24.
Just after 1715, the left-hand rod screamed into action and I gently pumped in the Carp towards the margins.  It kited both left and right, I very nearly lost it on the overhanging tree to left.
It rolled between the truck and the two other branches, I just had to maintain the pressure and draw the carp away.  Once it was under the rod tip I could relax and then just wait until the time was right to draw it into the awaiting Nsr50.
That will certainly do me.  It pulled the dial round to 17lb 5oz – not the biggest but another carp falls to the CC and a blank saver (depending on how the night goes), it's always nice to get a carp in the net as you can relax a bit and focus on the next.
About 1815 the right-hand rod gave a few bleeps, dropped back and up again. Oh no, it's a bream.  But as there was still plenty of light, I was able to get the rod back on the spot.
Just after 2015, the right rods belts off and after playing the carp halfway in, the hook pulls again.  This has now got me thinking and I'm starting to feel that it's the smaller Carp e.g the Stock Mirror's that were put in the other year.  There may be a good possibility that these fish have softer mouths and with the Ronnie rig, the pickup rate goes up.  Unfortunately, there is a small chance that you are likely to not get a perfect hook hold every time and I could just be a bit unlucky.  The 2 fish that this happened on, all felt a similar size to each other including the one I landed.  You know when you have a lump on and these certainly all felt like that.
Let's hope the night brings me better luck.
Around 0315 in the middle of a heavy downpour and the wind that goes with it, the left-hand rod was away.  This time, it was certainly a better size fish.  After what felt like a lifetime in the pouring rain and a close call with the reeds to my right – glad I'd put my waders on, I had an extra 2 feet of depth to get out there!  A lovely Common graced the Nsr50.
24lb 9oz Common
That was a nice surprise and probably the first carp that I've had in the rain for a long time.  With the photos done, it was time to get the rod back on the spot.  It's not so simple in a gale that is blowing a crosswind but I was happy on the third go.  You have to be happy with your bait presentation – 75% will not do.
Let's see if I can get my head down for a bit.  It's been a rough night so far.
It was certainly one rough night with not a lot of sleep, glad I banked another carp, can't complain too much 4 takes and 2 landed, these things happen.
Now, its time to prepare for the Airfield Lake, it's opening next weekend.  Unfortunately, I think my catch rate will drop because of the size of the water and the nomadic carp.
With my time on the Meadow Lake over for until October, it has been an amazing start to this year from this lake.
20 fish in total
4 x 30s
11 x 20s
This has to be my best start to a year for a long time.  It will help me move on to my next challenge full of confidence, which is definitely a boost.
Until next time
Stay Safe
Richard
Search eBay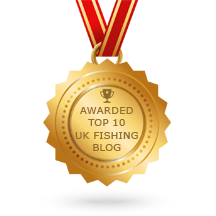 Please subscribe to my Video Diary


Please follow my Facebook Pages