Location – School Lake
Hours Fished – 5 hours
I'm making the most of days before the gardening starts up and I'm back on the school lake for another 5 hours today.  It's a different swim to yesterday, but a similar area where I can still keep an eye on the island end.  There are other anglers down the popular end of the lake, which is ok as I'm quite convinced that the bigger carp will keep away (hopefully) and they will hang out here.
I've using tiny PVA bags with crushed CC boilies and a small scattering of 8mm Catalyst pellets, with my normal wafter/popup hook bait combination.
It was just before 10.00 when the right rod rattled off with probably the smallest carp I'd had from here, but it's still a carp and its not a blank!
Which I'm always grateful for, as you now have the knowledge that you picked the right swim and presented the bait correctly.
With another bag on, I sat back and enjoyed the sunshine.  Unfortunately, this didn't last long as the wind picked up and the wind arrived – I even had to get the brolly up.  I nearly moved around noon time again, but after seeing a small fizz up, I opted to hang on here again.  It was still the most sheltered part of the lake and there were no other signs of carp about, not even off the island.  I'm starting to think it could be worth a go down the other end of the lake, I spotted this morning that the pads had started to grow and the carp certainly love that time.
With only 15 minutes to go, it certainly looks like that the small carp, was my blank saver today.
Until next time
Stay Safe
Richard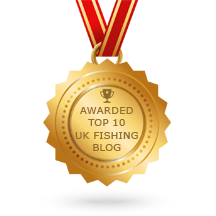 Please subscribe to my Video Diary
Consultant For
Sponsored By