I thought I would run through my set up and bait, rigs, etc.
I only use 2 rods, as this is the rule on my syndicate.  There are 12ft 3 to 5oz Fox Xts in conjunction with Shimano 14000 Ultegra reels loaded with different varieties of Asso fishing lines.  I rarely have the same line on both rods, as I'm fishing in different situations with each rod.
I've settled on Summit Tackle as a brand for my rod pod and sticks; they are all interchangeable and the pod is a stand-alone item.  However, the bank sticks can screw onto the leg fittings on the pod, which means I can have it as low as I like or up in the air.
The bank stick range is brilliant; from really short to incredibly long.  This really suits my style of fishing, sometimes a pod, other times a single stick spread about and this is all in one bag, just perfect I've found.
Bivvy wise, I can't decide and have a array of them e.g Fox reflex, JRC Txg2 bivvy and overwrap, Trakker Pioneer, Aqua Fast & Light with overwrap or mossy front (and extra stormside), Aqua M3 Compact with overwrap, TFG Hardcore brolly, JRC & Trakker brollys with mossy front.  I use them all from time to time, it depends on what takes my fancy and the time of the year, smaller ones in winter to keep me warm or large ones in the summer to keep me cold or brolly when I fancy being mobile.
Landing nets are Evolution Carp Tackle's Nsr50 & Nsr40, I like to use 2 nets and retaining sling, my unhooking mats is a Fox XL cradle.
I use a Fox Flatliner bedchair in conjunction with an Adobe memory foam mattress; together these are awesome.  I have a summer sleeping bag and a winter one, both very old and not made anymore, but do the job brilliantly.
I don't have a carryall/tackle bag as such, I use a Ridgemonkey bucket with the infill trays for baiting up and hook baits.  The rest are in separate bags that I can add or remove from a camouflage bag for life.  This enables me to remove the bag which is full of lights, charging equipment or the odds and sods bag.  What is in this bag depends if I'm fishing a few hours in the day, a quick overnighter or a 48hrs+ trip.  All my stuff is stored in an old wardrobe in the house for easy access, I can swap stuff around and not forget anything – this helps for stress-free fishing.
All my end tackle and hooks are from the Spotted Fin range and have banked plenty of carp over recent years including a few personal best.  When I can, I like to fish in the margins with one rod under an overhanging tree and your end tackle certainly needs to be 100% reliable.
Barrow wise, I'm not sure what brand it is as I was given it by a friend.  Personally, I'm not that fussed about barrows.  I have a feeling that as I've now past 55 there may well be a time when a motorized one will come along.  There is only one brand that stands out – Prestige.  I believe my first barrow was one of the original ones and was given it and have past this one on down the line and is still going strong.
Over the year's I've made my own leads and used various lead companies.  I've found that they are all brilliant and it's a lot better than finding the time to make my own.
Bait wise, I started with homemade and continued to do until the mid-90s.  When I moved down South from East Anglia and lived in a shared house for the first year – until I found a house to buy and sell my own, I simply had no other option then buy freezer bait by the kilo and store it in the office fridge freezer.  I slowly realized that things had changed and moved on for the better.  As work took over my life more and more, I just stuck to the bait company freezer ranges.  Over the years, there has emerged, a couple of outstanding brands and one, in particular, has stood out more than the rest.  This I feel is due to their ethos of quality materials and the thinking behind the way carp baits should be made, which is a cut above the rest.  They are Spotted Fin.
Richard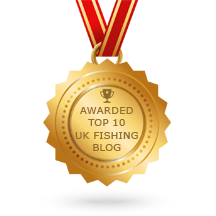 Please subscribe to my Video Diary
Consultant For
Sponsored By