Location – Meadow Lake
Hours – 119 Hrs (5 Nights)
The family was away, it's Half Term.  I'm down the lake and all set up in the swamp swim again.  It was a difficult choice, as the other swim I had in mind was nice, dry, clean and you didn't need to wade out, whereas this swim is horrendous.  However, the underlying factor was that it was still producing Carp and I had utter confidence in that swim after the previous few weeks of being in here.  I know that if I set up in any other swim in the lake (as I had the pick of them all), obviously not the ones underwater!  I would spend the whole time wishing I was in there, so it just had to be done.
There was no real point in leading about.  It was a case of spombing out 23 wraps 4 kilos of Classic Corn boilies and particle blend.  Then casting the rods on to the spot with my hook baits, exactly as previous sessions and take it from there as the week goes on.
Within 20 minutes of the rods being out, I was into a Bream and once it was unhooked the wind picked up.  It was a right struggle to get the bait back on the spot and had to redo it again once the wind had calmed down again.  Eventually, the rain pushed away and the sunshine arrived at the end of the day.  There was still a good blow on the water, but the temperature was dropping, the pressure looked good and was rising over the course of the week.
My second take happened just after 2300 hours and was definitely a Carp.  I say was because halfway through pumping the fish in from my spot (which is certainly a few yards out and a few more once the waders are on), the hook pulled and from my close inspection afterward it was needle-sharp.  Just one of those things.  I just hope they haven't wised up to my change in rigs adjustments.  We shall see.  It's nice to get a take off the spot.  With the rod back out and the blog updated, I was soon back on the sack (getting some more shut-eye).  I awoke to a lovely but still windy sunny day, there had been the odd heavy downpour overnight which woke me.  Just before 0830 the left-hand rod was off with another Carp, again, frustratingly, bumped the hook out.  Two hook pulls is not very good news and I was at a bit of a loss to why.  The rigs I had been using were no different from the nice new ones I put on.  I soon changed them and got both rods back out again, I then topped up the swim with more bait. There clearly had been action on the baited area, albeit no carp on the bank.  Let's hope I don't have to wait until the early hours to find out if I'm correct!
The day past by with no action.  My friend Ian came for a coffee and a chat for a few hours in the afternoon, which was nice, as I've not seen him for some time.  The weather was a mixture of heavy rain and sunshine today.  I'm hoping that tonight I can put last night's problems behind me and move forward with a few carp in the net.
The night past in complete silence for me, I was fast off all night long – the fresh air must be working!  If it wasn't for a friend calling I would have still been asleep now.  It was time for an adjustment with the rods, I didn't feel it was necessary to move swim, just move one rod into another area.  As there is an incredible amount of water in front of me and only being able to fish with 2 rods does limit you.  I rebaited and moved the right-hand rod to a different spot, I left the other rod where it was for just for one more night, as there is a bit of bait out there.  Everything else is the same – rig, hook baits, etc. The weather is cloudy and an odd rain shower, tomorrow afternoon onwards there is rain forecast, but light rain, so all looks great.  Unfortunately, the pressure has gone up by 10mb which isn't helping.  My fourth take of the trip happened at 1550 Tuesday afternoon and this time it wasn't a Bream!  It also didn't fall off!  After a very hard fight, avoiding the overhanging tree to my left, it was safely in the Nsr50 and wow, what an emotional fight that was after the last ones, I was just overwhelmed and relieved at the same time.
29lb 3oz common
The rod was rebaited perfectly on the spot, I was feeling much more confident now.
There was not a single bleep again all night long and I need to definitely spend some time thinking my options over today; stay, move or go home.  I'm going to give it until noontime before I make my mind up and way up the pros and cons.  I never like to wake up after a blank night and go 'that's it I'm moving', I believe you have to be more calculated in what you do.  I'll have a brew and a bite to eat (to feed the brain) because I don't what to make the wrong choice.  It's now 1300 hours Wednesday and I've decided to sit it out in this swim for another night or two.  I decided this after looking around and hunting them down with the Deeper.  It was clear that they were still in this swim.  The issue with this swim is that it commands so much water, you could fish six rods and not cover half of it.  The water in front of me goes into a sanctuary area, so unless you can cast 200 yards + they are safe from capture.  Therefore, after a long search about and returning to my swim for a look, an incredible reading popped up on the Deeper.
This just had to be the place to be.  They were drifting about, as I picked them up 3 times over an area, luckily I have baited this area.  I stuck both rods on it and fingers crossed that they pass this way again and fancy a feed.  The bottom looks perfect and felt brilliant once I had passed the marker rod over the area, as I like to do.  The weather conditions are perfect – with the exception of the pressure, which is still high, but hey you can't have it all, I didn't pick this week, the schools do!  My fifth take happened just before midnight on Wednesday after taking the decision to move my rods onto another spot.  This paid off with the hard fighting Common, who just ripped off with no warning – I was a bit dazed at first, but it was on the rod and I was gaining ground.  It was soon in the Nsr50, that was a nice result.
20lb 15oz common
I was well happy with that and as the rain started again I quickly got the rod on the spot, well I hope so.  The wind had picked up and was blowing very hard down the lake again, this definitely makes casting an issue and even more so in the dark.  However, once I had tightened up the line, it was pointing in the right direction, heard it click and it felt right when it hit the bottom, that the best I could do.  The next take was just before 0400 hours on the same rod as before, this also belted off like a train and did its best to get under a tree to my left.  Again, after a hard battle with the rod trip pushed deep into the water, I cleared the tree and set about playing the fish out under the rod tip.  It soon slipped into the waiting Nsr50.
28lb 14oz Common
Very happy with that and not sure if I will get back to sleep tonight as very much over the moon.  The rod was soon out again and looking like it was spot on.  I settled down with my head on the pillow; I hadn't even closed my eyes before the right-hand rod was off this time and a very heavy fight ensued.  I was convinced I hooked a monster, but it was just weed the Carp had picked up on the way in!  But it was still another nice Common.
24lb 3oz Common
I was well happy with tonight's results – after the bad start with 2 lost fish, that was in the past.  I had just banked the 4th one of the trip and that was pretty good going for February.  Yet another carp on Spotted Fin Classic Corn boilies.  I'm pretty much hooked on and have utter confidence in.  I can't wait to get back on the Airfield lake in the middle of March with these babies.  It just went past 0500 hours, I had better try and get some sleep, I need to be up early to rebait the swim unless I fancy getting soaked in the rain again.
What an incredible night that was.  I managed a bit of sleep and got up at 0800 hours.  I baited up the swim with the last of my bait and settled down to a day in the bivvy as the forecast is rained all day long.  The next take happened right in the middle of a heavy wind and rain storm but was successfully landed without any issues.  I didn't weigh it as it was pouring down, just did a quick vid and got it back out there.
That will certainly do me, another one to the list of Carp who love the Classic Corn.  I took this opportunity and got both rods in.  After a quick trip to the box in the car park and collect a couple more bits, I then set about getting the rod ready for a recast when the wind and the rain starts in about half an hour. Unfortunately, the wind is now blowing directly into my swim from the NW and has a cold chill about it, it's due to swing around again to the SW as evening progress.  The pressure has started to fall, which is nice, I do look at these things but as I generally only do nights at the weekend and short days in the week (until the gardening season really kicks in), I just go when I feel happy about the conditions as you really never know.
I had yet another Bream at about 1730 and there was just enough light to get the fish back in the water and the rod out before the light was lost for my last night.  The next take happened just after 2030 on that very same rod, but this one was a Carp and a Mirror, it was one of the new stockfish and after I double-checked the weight, as it didn't look that big.
14lb 5oz Mirror
Happy with that, it certainly breaks up the Common run a bit!  With that rod now out, I settled down to get some well-earned rest after last night's captures.  I was hoping for the same tonight.  The next take was a long wait, it happened just before first light on my last morning and I was dozing at the time, wondering if I will get another one before I pack up this morning.  It absolutely belted off and made me jump.
26lb 1oz Common
What a lovely Common to grace my net again, there's actually now rain forecast today.  This is handy as it would be nice to get things clean and tidy.
It's time, to sum up my trip – with a hard start and the thought of moving in my mind, lots of deep thinking happened and I stuck with this swim.  It was certainly worth the effort as the rewards were brilliant and my trusty Deeper helped.  The Classic Corn boilies did their job.  It all came together and produced the goods again for me, by the time I get back on here, it will be March and in my book that's the start of Spring and Winter is over.  Boy oh boy, what a Winter it's been.
4 x 30s
9 x 20s and plenty of doubles
And this all when the weather wasn't particularly nice, the lake had flooded and the swim turned into a swampy bog.  But the rest is history.
Until next time
Richard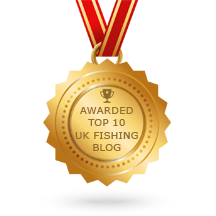 Please subscribe to my Video Diary
Consultant For
Sponsored By