Location – School Lake
Hours – 5 Hrs
I'm back out on the School Lake for a few hours today and was quite surprised to find 4 other anglers on the lake.  They, however, were all down the other end.  I headed up to the island end of the lake and set up so I could cast to a couple of the corners.  I could also get a good view of the lake, just in case, it was worth moving, later on.  I'm 100% sure there will always be carp down this end, so I was very confident in my choice, but it still Winter and you need to keep your options open.
I was putting out 8mm Catalyst pellets with a 12mm CC pop up over each area.
After watching 3 or more fish crashing out further down the lake, I couldn't help myself and was soon on my way.  I had to stealthily get the rods back out; on lakes like this I'm never sure it's worth the move as you could end up chasing carp all day.  But with no signs my end, it just had to be worth a go and I was soon picking up liners, I just need a pickup.
The move finally paid off.  I had to adjust the baits after realizing that the carp were a lot closer than I thought, they were fizzing up right off the boards.
With no more action and zero signs of feeding carp, I headed back to the island but not the same swim as before.  I wanted to present a bait on the front of the island on my side of the lake and the other rod was put where my left hand was, first thing this morning.  Hopefully, I will bag one more before 2 o'clock.
It didn't take long, a bit of a small one, but you can't choose what bites!
The next fish was a Mirror and absolutely stunning.  This take had come from the spot off the end of the island, they clearly were in more open water more than normal.  And I was very happy.
I've about 15 minutes before pack up time and I'm very happy with my results.  It was hard going, I moved 3 times but successfully banked 3 carp today, which was looking very unlikely at one point.
After spotting another fish roll on the same spot, I quickly moved and put one rod on the spot, in the hope it rattles off in the next fifteen minutes, you just never know.
Until next time
Richard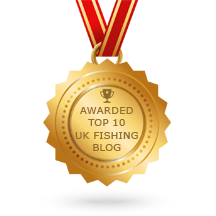 Please subscribe to my Video Diary
Consultant For
Sponsored By