Location – School Lake
Hours – 4 Hrs
There's only one place to go on your birthday.  But with horrendous winds and heavy rain forecast, it will not be for long.  With such a gorgeous start to the day, I can't sit at home.
I arrived down the lake to find the maintenance guys had finished the first bank and were headed around the island.  This gave me the opportunity to try in open water again.  I'd been meaning to do for some time, just need to stock up on maggots and casters.  Previously, the carp didn't pick up anything I've tried so far in open water, it's all been margins and underarm flicker.  I'm sure this may well be where the bigger carp are, we shall see over the next few weeks.
I've not forgotten an item of tackle for some time, but today it was my buzzers!  And the trusty barrow pod was put into action, must be my age, I turned 55 today.
I'm using a combination of maggots, casters, crushed Classic Corn boilies in a large pva bag with 12mm pop-up and casting just over midway across the lake.

The wind is pushing down this end of the lake nicely and there is the odd heavy rain shower,  but nothing too drastic, it looks like its being pushed up North more.  I've been putting out the pva bags once every hour.  However, just before noon, I decided that the last two hours I would put a fresh bait on and stick it tight to the far margins as that tends to produce a Carp or two, as I've had no action yet.
Not long after putting out the margin rod, it was away with this lovely dummy Mirror.



I put the rod back out in the same area, you never know, it may well rattle off again.


Unfortunately, that was the only take of the day, but it was all I needed not to blank.

Until next time
Richard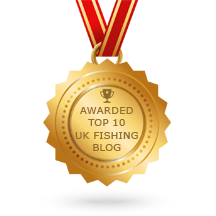 Please subscribe to my Video Diary
Consultant For
Sponsored By