Location – School Lake
Hours – 4 Hrs
I'm out for my usual Monday session; obsessed with the Carp at the moment.  The forecast is for very high winds and heavy rain this week, so I'm not sure if I will make it out again.
I arrived at the lake to find the maintenance team hard at work sorting out the dead trees, it's always nice to see your membership money getting put back into the lakes you fish.  I was really hoping to fish a different area from the island today but felt that was my best option with all the noise and falling trees.
I headed to my normal area and baited with 8mm Catalyst pellets, crushed Classic Corn boilies and fished a 12mm CC pop up, with my ever faithful Ronnie rig.
The first take happened just before 10.30 and just after the rain had started, which wasn't forecast to arrive until later this afternoon.  It was only a small Common, but still very welcome.
With a fresh bait on the rod, it was soon back out on to the left-hand spot.  l topped up the swim with a small amount of bait.  By 11 am, as there was no action on the right-hand rod, I moved that one down to the bottom of the margin shelf.  I had a feeling this was going to be a hard days fishing, the weather had changed and there were absolutely no signs of Carp.  Just as I was thinking this, the right-hand rod ripped off, with a very unhappy Mirror on the other end who was clearly not happy but it was soon on the bank and then safely back in the lake.

Just shows you can never really tell.
The wind had really picked up and the brolly was taking a beating, there was the odd break in the rain, it wasn't too bad on the bank today.
Well, it's almost heading home time and this wind has certainly got a chill to it.  I'm very happy with two fish, as it's gone from warm and sunny, to cold and windy in the space of a few hours.  I'm certainly feeling the difference and I'm sure the carp will be.
Until next time
Richard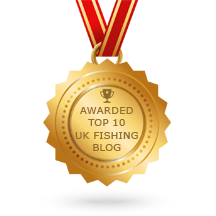 Please subscribe to my Video Diary
Consultant For
Sponsored By