Location – School Lake
Hours Fished – 5hrs
With another rainy day on the cards, it was time to get down the school lake.  There's never a great deal of gardening to do this time of the year; once everything is all cleaned up, I just have a couple of big gardens which take me some time to get there and its been a lot longer this year with the weather.
There were two other anglers on the lake when I arrived and to set up in areas where they'd seen Carp.  After a chat with one of them, who had seen no other signs except in these areas.  I had my work cut out and with a long period of rain due, I was hoping to settle in one spot for the duration.  So, I spent the first hour with the Deeper looking for a group of fish, which was not that forthcoming but I did locate some.
I set about getting a couple of small mesh bags made up, filled with 6mm Catalyst pellets and attached them to my Ronnie rig with solu-ties.  This prevents the hook beads being moved in the cast and PPS as hook bait.
Bag set up.
I had set up 30 or 40 yards away from the other anglers, but in the middle of them and just under arm swinging the bags out.  I then scattered a few Catalyst boilies and pellets to encourage a bit of feeding.  I set back on my chair under the brolly as the rain had properly arrived.
Well, it's starting to look like a blank for me today and could turn out to be my last trip before Christmas.  I have a bit to organize before the kids start their two weeks off.
I did think I was in with the chance of a pickup, but perhaps the rain fixed my fate.  Perhaps not, the rods ripped into life with this lovely blank saving Common.
Only a small one about 10lb, but very happy with that fish.
Until next time
Richard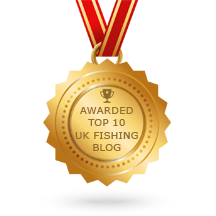 Please subscribe to my Video Diary
Consultant For
Sponsored By