Location – School Lake
Hours Fished – 4hrs
With gardening nearly done for the Winter months.  I've now got the opportunity to pick and choose when I go.  Obviously, with the exception of the school holidays over the Christmas period.  This will be a great bonus for my fishing, but it's still certainly going to be hard going (as you would expect this time of the year).
I'm back down the School Lake today.  Unfortunately, where I located some Carp on my way out the other day, there is a guy fishing two swims down.  In my book, I can't set near there, so I headed for the island again and the way the wind was pushing across I felt it to be the best area.  It was the same spot as before and this time I had come armed with Catalyst boilies and pellets, I catapulted a good load of them into the margins around the island.  As the wind was very fresh and all the rain yesterday, I'm sure the lake will be colder and it may be a bit harder today.
The first take happened within the first hour, which I was surprised about and it was a very hard fighting fully-scaled Mirror.
14lb 1oz
The second take was about 10 minutes after getting the rod back out on the spot.  It was all happening on the right-hand rod again and I was considering moving the left rod.
16lb 1oz
A lovely Common this time and also a good size again, which was nice and want I'm looking for.  After getting the rod out again, it was definitely time for a few more pouch fulls of bait out there, just as I had finished that, the rod was away again.  This time to a smaller Common, never the less the third fish of the day.
I was now really thinking that the left-hand spot may have been blown from all the pressure over the year's or do I hold out the bigger fish?
After all that action it completely died and I even moved both rods around, but I can't really complain about today's results.
Until next time
Richard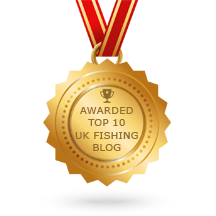 Please subscribe to my Video Diary
Consultant For
Sponsored By