Location – School Lake
Hours Fished – 5hrs
I'm out for my normal Monday trip, this time in the rain, I'm interested in how the rain affects the Carp in any way.  I was hoping for a peg I had fished before, I'd seen bigger Carp topping off the front of the pads.  I was planning on catapulting a load of 12mm Catalyst boilies and fishing PVA bags filled with Catalyst pellets soaked in the syrup, this makes them all sticky and smells amazing.
It was not long before my first take and a small Mirror was in the net.
That's a nice start and with another bag back on the spot, that one was soon away again! With what I hoped felt like a better Carp.  Once it was under my top tip, it did look a lot bigger and that was soon in the net.  I thought I better weigh this one and it turned the dial round to 16lbs 12oz.
Happy with that.  I did up another bag and flicked it across to the spot.  I'd now put a loaded of boilies; well, 4 big catapults full and 3 medium-sized bags.  I know it sounds crazy but I didn't want to over bait the area.
It was just after noon time when I had my third take of the day.  This time on the right-hand rod, I'd been watching the line twitch a few times over the past 30 minutes and I was sure it would finally rattle off.
Another one of the smaller residents, but I'm sure when Winter arrives these will slow down and the bigger residents will appear.
The same rod was off again within minutes of getting the bait back out there – I'd not even finished sticking my 12mm out there before the rod was off!
15lb 1oz
Second double of the trip.  The sun may even poke its head out from behind the clouds, it's looking promising.  With just under 2 hours of fishing time to go, I'm very hopeful of another one or two Carp.
The next take was also to the right-hand rod and also on the PPS.  I was thinking there must be an issue with the other rod, after another nice battle fish 5 was in the net.
15lb 2oz
Another nice Common, but this one was a lot bigger, time to check the left-hand rod and sure enough, it was hooked up on a stick.  With that removed and a fresh Pineapple Nbutyric acid pop upon, that was also back out there and with 30 minutes to go, we shall see.
With no more fish, it was time to get home, what an amazing few hours of action.
Until next time
Richard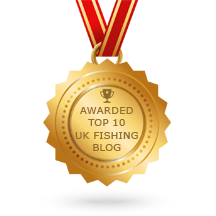 Please subscribe to my Video Diary
Consultant For
Sponsored By