Location – School Lake
Hours Fished – 2 1/2 hrs
With work done by 1130 and only just round the corner, I was soon home, loaded and off to the lake.  It was clearly a different day with a heavy frost and a complete lack of sunshine, but as I only caught yesterday after moving at 1215, it was certainly worth the effort and time.
I was really hoping to try a different area, however, with 4 cars in the car park, my choice was limited.  As luck would have it the peg I was in yesterday was free, probably because it's a tricky swim to cast from, you need to be on your knees right at the front of the swim.  It's exactly opposite to where I've seen the carp and gives you direct contact with the fish, perfect for maintaining pressure.
Within 10 minutes, the right rod was away and a small Mirror came out if the pads (across the other side) very easily, but very nearly got me on the right-hand margin.
Just as I got the rod out there, the left-hand rod was away with another lovely Mirror, this one was so much easier to get in the net.
Once I had sorted myself out, I sat back down and looked at the time – it was only 1235 and I had already had two carp!  I had only finished setting up at 1208.  It was turning out to be a great venue for runs and testing out the bait.  A few rays of sunlight were coming through the clouds and it wass quite pleasant on the bank.
Well, it's nearly home time and my last casts where deliberately off the edge of the pads some two-foot, as I was interested to see if they would venture out, but it looks like that's a no.  Next time, I'm planning on pitching up in a swim, then walking around with some pellet and baiting up or I may try my TF gear spomb.  This opens in the air releasing the bait to fail into the water as if it had been catapulted out, the empty spomb then drops into the water some 12ft further back, giving less disturbance, my just try that.
Until next time
Richard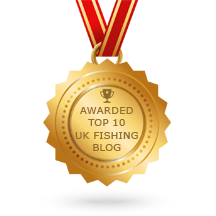 Please subscribe to my Video Diary
Consultant For
Sponsored By