Location – School Lake
Hours Fished – 3 1/2 hrs
With my car fixed by the garage just before 10am; it would be silly not to make use of the free time today.  As we are having another proper Autumn day, none of this rain rubbish, I was soon down the lake.  I found a few fish in the dead pads and had the rods both out on the spots by 11am, you couldn't ask for more.
These carp are quite happy to give their locations away, just a bit shy about picking up baits.  As Winter arrives, I'm sure that will change as the angler pressure drops even more.
After spotting a nice fish showing a couple of times to my left, it was time for a swim move.  I moved down a few swims and not wishing to spook the carp, it was single hook baits and a foam nugget.  I was pretty lucky and only needing 3 casts, unfortunately, I'm sure the fish have moved down to my right, so fingers crossed.
Within the hour my left-hand rod was away with (definitely) much bigger and a harder fighting fish to get back in the pads and off to my right.  It successfully picked up the other rod (joy!) but I managed to sort out and finally get the carp in the net.
It was about an 11lb mirror, which I'm very happy with and there is a chance of another one.
Within moments of typing the above sentence, the right-hand rod was away, with another carp desperately seeking sanctuary in the pads.  I held my ground and another carp was in the net and this time it was common.
At just over 11lb ish; I'm not currently weighing them but things will change when I'm a bit more organized.  With only 30 minutes left on the clock, the rod was soon out there again and you never know.
Until next time
Richard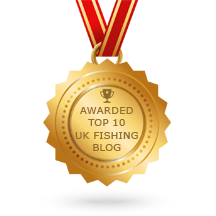 Please subscribe to my Video Diary
Consultant For

Sponsored By