Location – Meadow Lake
Hours Fished – 24hrs
My original plan for this weekend was to arrive Friday night, but I just didn't fancy setting up in -1 degrees and a fresh wind blowing.  So I changed the plan to go first thing Saturday morning in time to arrive and set up before the heavy rain started.  But you know what its like; nice warm bed, I didn't wake up until after 8 am.  This was very unusual and I probably should have set the alarm clock, I checked on my phone and the heavy rain was due at 10am.  There was no way I had enough time, but the rain was due to pass over by 1530 ish or before if I was lucky.  I started to look at the Met Office's rain radar app and it was looking like the weather would abate earlier.  Better finish off getting the kit in the car and head off.  I was planning on arriving before the rain stopped so I could have a drive around the lake and find some likely areas, I would then take a walk and a chat with anyone fishing.  When I arrived there was not a single person fishing and the clear sky was coming.
After a good look around and no real signs of carp (which in all honesty wasn't much of a surprise after a few laps around the lake).  With this lake, we are very lucky as the track goes all the way around and you can be lazy and sit and watch from the comfort of your car.  I didn't spot a thing.  This did not help the swim choice, I needed to be off sharpish tomorrow morning, so a swim with the car behind it would certainly help.
The swim was selected and I set about finding some spots; one in silt and the other on gravel, as I really wanted to keep my options open.  With both areas found and a small amount of bait over each, I cast a pop up on to each spot and was very happy.  I set about setting up camp and then got the coffee on.
It was a lovely afternoon, the wind had calmed down, but it was swinging to the N/W and a low of 4 degrees.  It would just be warmer than last night as there was a very heavy frost, the pressure was due to be steady – fingers crossed.
The evening and night were pretty silent except the odd firework and a couple of single bleeps.  Just after 8 am, the left-hand rod gave a couple of bleeps, the tip bent round, the bobbin dropped back and I pulled into a bream.  These things happen, at least I know that my spot was clean and something would feed on it.
With 2 hrs left until I needed to reel in the bait, I  was back on the spot and I got the coffee on as the sun was coming through the clouds, lovely morning again on the lake.
Unfortunately, that was that, until next time.
Richard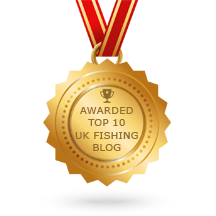 Please subscribe to my Video Diary
Consultant For

Sponsored By