Location – Estate Lake
Hours Fished – 5hrs
With another October rainy day forecast, it certainly wasn't the weather for gardening – it's now getting beyond a joke.  However, looking back to when I was younger and out fishing this time of the year, with generally pretty rubbish wet weather gear.  All I remember is that it always rains in October, no real change there then.
I'm on the Estate Lake for a few hours again, I have moved along a bit, to get to another spot on the dam end.  I've abandoned the overhanging bush for now as I haven't seen or felt any signs of carp activity near there.  Same tactics as always here, big bags in the weed all with sorts, Ronnie rigs with different hook baits on until I can crack the code.
Trying out the Grizzyman Clothing Gorka suit today and wow I'm warm.  I am looking forward to some Winter days to really feel the benefits.
Just after noontime the rain finally stopped and half an hour later, the left-hand rod was off.  It was attached to a very unhappy carp, but unfortunately, the hook pulled out, as the carp had found a good clump of weed.  It is not a complete disaster, I did get a take from a spot I have been baiting up and there was at least one carp down this end of the lake.
I've got just over an hour left to go, so you never know…  Sometimes you get lucky, I was no soon into another carp and this one made it to the net.  I think I was unlucky with the first take as this one easily came out of the weed, must have been more of an obstruction down there.
12lb 10oz Mirror
Not the biggest but well deserved I must say.  Two takes from the area of the lake I'm baiting has really put my confidence up in what I'm doing by baiting an area that the carp are not always in.  It's about making life easier over the Winter months on miserable days.  Let's hope this is the start of something good.
Until next time
Richard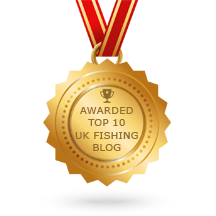 Please subscribe to my Video Diary
Consultant For

Sponsored By