Location – Estate Lake
Hours Fished – 5hrs
With Monday's now free (I've rearranged my workload to only 3 days a week), I'm either going to be here for the day or stay on Meadow Lake after the weekend.  Arriving on a  Friday night will get harder as the nights draw in and Winter sets in.  I find that getting into a routine of where you fish and when; helps you organize and plan the sessions out better.  It creates less stress and disorganization which is certainly not going to help you bank fish.
There has been a work party on the lake recently, which I was unable to attend (unfortunately) due to prior arrangement.  This was a real shame, as it would have been a great opportunity to meet other members and gain some extra knowledge regarding their success and failures here.  As I don't believe it's been very fruitful for many members.
I have decided for easy access and setting up in the dark, the car park side of the lake was going to be my chosen side for the Autumn and Winter months.  This gave me access to a high proportion of the lake and once the weed had died back, I would have no issues putting a bait in 3/4 of the lake and if I only baited this area, it would create a feeding area.
The spots I was focusing on today were a lovely clean area under an overhanging bush and a spot at the back of a weed bed left which divides two swims.  The margin rod was baited by hand and the other a small PVA bag.  Both rods were baited with 12mm pop-ups, one classic corn, and the other Pink pepper squid.  I was after something different and visual.
I was also planning on checking out a few areas with the Deeper for the last hour.  This was to gain more insight into the makeup of the bottom after a lot of the weed had been taken out.
I'm sure I learn a bit more every time I fish here, but it's certainly turning out to be a hard nut to crack.  I do have to bear in mind that I probably have only fished here 6 or 7 times since joining and my main reason was for the Winter & the last of the Autumn months.  So, all in all, I'm really only now just starting what I set out to do and any previous trips were all exploratory.
Until next time.
Richard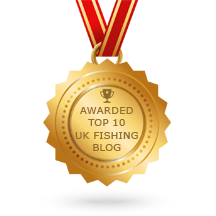 Please subscribe to my Video Diary
Consultant For

Sponsored By