With a busy family weekend ahead, I took the opportunity to pick the youngest up from school and head straight for the lake.  This turned out to be a great move, as it was pretty full up this weekend, these things happen from time to time.
However, I was quite lucky because an area that I had spotted fish in previously was not occupied.  I didn't hesitate and quickly set up before a passing shower arrived.
One rod was placed on a spot which has produced carp before.  I baited it lightly as I was only here for just over 12 hrs and didn't wish to make much disturbance.  The other rod was cast to a hardish spot which I found with the marker rod.  I knew what I was looking for as I had looked on the Deeper Lakebook page.
I was after the drop off on the side of the small island, I also baited lightly.  I left the other anglers to create more disturbance and push the fish my way.  I purposely set up and baited upon arrival for this reason.  I then popped over to see Ian, who was fishing the far corner of the lake to reduce the noise level; we shall see how this pans out.
Both rods were on large Catalyst boilies with a 15mm pop up.
We settled down for the night, as I watch the lake, my daughter watches her tablet and munches all the chocolate bars before I noticed!
My first take happened just after 1 am on the right-hand rod.  As there is a rocky ledge to this swim there is no way you can rush to the rods.  Which is always fun when you have just woken up!  But I was soon there and playing a carp in the fog, this is also great fun and you struggle to pick up which way the line is going.  I was also worried about the overhanging bush to my right, but lucky for me the fish stuck to open water and was soon slipping into the Nsr.
31lb 15oz Common
That will do nicely.  There's always a chance of another one through the rest of the night.  Thankfully, the daughter was sound asleep through the whole thing and none the wiser; lucky I got some photographs as she wouldn't believe me.  With the rod back on the spot it was time to get my head down again.
The morning soon arrived and pack up time was getting ever closer.
Until next time
Richard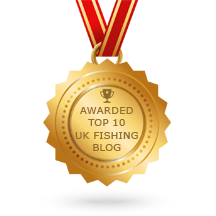 Please subscribe to my Video Diary
Consultant For

Sponsored By