After an amazing two weeks holiday in Cornwall.  It's certainly a lovely part of the UK and I've not been there for years but I can safely say, I will definitely be returning there again.
One of my favourite places we visited, very hard to pick, as this area its just full of hidden away gems.
Once back, it was time to get my fishing head on again.  After a chat with a few of the members who were fishing at the weekend, it appeared that the carp were coming out on a regular basis and I could be in with a shout.  The weather conditions were not the best, but I was bankside and who could complain about that?
Swim choice was going to be hard having been away but a very fresh NW wind was going to start blowing by noontime, I felt I needed to be in that wind.  It would be pushing along the point which has four swims along it.  It would also give me an opportunity to spot some carp who were active in the main body of the lake and in the bay behind me.  I wasn't sure whether to wait until one of the members packed up from the swim where I was for my last trip.  It would be at the back of the wind but it had been occupied since Friday or stick to one that hadn't been fished and was in the full force of the wind.  Then a carp rolled – job done.
I checked out one of my normal spots for weed growth and then set about finding a new area to fish.  I was sure that the carp were more spread than they had been over the past few months.
This was the spot I picked for my right-hand rod.  I was fishing a pop up just to the right of the main body of the weed bed and I baited very heavily with a mixture of 12mm Smokey / Catalyst boilies.  I then moved on to the next spot.  I was looking for a new feature in this swim, previously it had been hard going on the left-hand side of the swim.  However, in previous years that area had produced very well.  I'm not sure if it's the lack of bait going into that area, everyone has started to only fish the right side or it's just gone off the boil.
I found a perfect area; just off where I'd seen a carp roll, it then moved away to the hard part of the lake.  I wished to fish one rod on silt and other on gravel, I also baited this area very heavily with the same boilies, the hook bait for this rod was going to be a Catalyst wafter.
My first take happened just after 4 am, with a couple of bleeps and a nice slow run.  I was on to the rod straight away and pulled into what felt like a good lump moving from the left across to my right and out into open water.  I was buzzing right up until the point where the hook pulled out.  Which was pretty gutting.  This has happened a few times recently, I had not changed my rigs or set up.  So, this points to the carp could possibly changing their way of feeding and only mouthing the baits.  This in turns means they/I don't get a decent hook hold.
After a lot of thoughtful thinking during the day and a more favourable weather conditions moving in, I finally decided that I would stay for another night even with the early pack up.
The sun was setting real low and the carp began to show.  But not over my bait but in the vicinity and I'd not seen any real signs all day long.  However, just after 9 pm, the left-hand rod gave a few bleeps, which got me out of my bivvy!  With the headtorch pointing at the rod tip and I could see the line twitching.  Quickly, I picked the rod up and pulled into thin air.  I quickly reeled down and repeated the process until I finally caught with the carp, who at this point was heading for the overhanging tree to my left. As quickly as I could, I put the rod under the water as far as it would go and slowly pumped the fish away from any obstructions.  I played the fish out over the next 10 minute as I was probably a bit paranoid about losing another one, it was soon safely in the Nsr.
30lb 8oz Common
I was over the moon and very happy that I had stayed.  With carp topping out there, I soo had the rod back out and feeling very confident.
The next take was just after 2 am and produced this lovely mirror.  I may well have had it before and will check when I get back home.
23lb 5oz Mirror
Very pleased with my second carp of the night and definitely worth the effort.
The alarm clock was soon sounding and it was time to pack up in the first light of the day.
Pack up time
Until next time
Richard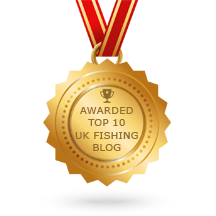 Please subscribe to my Video Diary
Consultant For

Sponsored By