With the Summer holidays getting ever closer, I'm trying my best to fit as many trips in as possible.  Once the kids are off school I'm pretty limited for time, however, it's nice to have a break and spend time with the family.
Today, I'm back on the Estate Lake and it's looking stunning.  I have been away from here for far too long.  I may just have to chance another evening and see how the mossies are!  I have purchased a product which claims it works.  We shall see.  I have tried pretty much everything, even a few urban myths.  I personally believe it down to the luck of the individual person and age, they never really bothered me before.
My approach to this trip is small bags and paste wrapped around the hook bait.  These will be placed in gaps in the weed which are not too far out.  There are stacks of fish about, I just need to get them to put their heads down.  I've put out a few tiny balls of the crushed hemp mixture and will give it a couple of hours, I will then move to another spot I've already baited up.
I'm sure some of you are thinking 'why don't you use floaters?'.  I have tried and failed, so far they are just not interested.  However, every time I come down or pop in, I put a few pouches out and maybe, one day in the future, it will happen.
As you can see, I've moved swim opposite to where I was fishing.  I'm pretty confident that the carp use these margins to transit past the island.  All I have done is just lowered a couple of bags out.  I did pop over here first thing and drop a few hemp balls out.
It was less than an hour before the left rod burst into life and with such a tiny swim, I had to negotiate the overhanging tree above me.  Both sides have overhanging vegetation, but all held together and a lovely mirror was in the net.
13lb 12oz Mirror
Not the biggest but another carp on the list from here and maybe a chance of another bite in the last hour from the next swim.
With only 10 minutes before I needed to head home, it was looking like just the one fish.  I am not going to sniff at this as because you can't help which fish picks your bait up.  It has been an enjoyable few hours and am looking forward to my next day trip.  I need to also brave an evening.
Until next time
Richard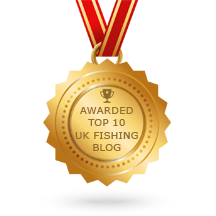 Please subscribe to my Video Diary
Consultant For
Sponsored By