This trip I have taken an old friend as a guest on the Airfield lake for a couple of nights. To my surprise, there were a fair few anglers on the lake this weekend – when I say a few, I mean 12 on 64 acres, which in reality is not many at all.
The swim choice was pretty limited.  We hadn't fished together for a long time and were looking forward to a social, so we needed an area to suit.  We finally settled on the Daisy Field swim, which has produced well for me over the years, but I have not fished it for a long time.
My mate picked the right side of the swim, which gave me the entrance to a small bay area and the open water in front of the swim.  I got the marker float out and familiarised myself with a couple of areas which had worked for me in the past.  I set about getting a mixture of 12mm Smokey, Catalyst, Hemp plus a few tigers hook bait-wise.  One rod was a Smokey wafter and the other a Catalyst wafter.
We were all done by just after 1330, not bad considering we arrived at 0930!  Time for a brew.
The afternoon was very pleasant in the sunshine and the sunset was pretty good, but there were no signs of any carp yet.  With a bit of rain in the night, I was feeling very confident and sure enough, just before 7 am the left-hand rod was away.  After a close call with the reeds and my right-hand rod, the carp was in the Nsr, it was bigger than I thought!
20lb 1oz Common
That will do me.  With a cold north wind now about and a sunny day ahead, hopefully, this end of the lake would warm up and the chance of another carp.
Certainly looking like a nice day ahead.  I rebaited the rod with another Catalyst wafter and an Evo white fake corn.
And got it back on the spot.  I quickly got a brew on and then later on sorted out some promotional shots for Evolution Carp Tackle in the nice morning sunshine.
It was getting pretty close to lunchtime and decision time on whether to top up the swim with more bait or not.  The Tuffties were still going down on my baited spots which is a sure sign there is bait still out there.  However, the last thing I need is to have them mop it all up, I may leave it until last thing tonight.  This will mean there's plenty of bait out for another morning take.
Just have to see.  Around 2 pm, we decided we may as well get the baiting up over and done with.  This would give me nearly 24 hrs to bag a few.
Another afternoon passed by with no action.  The wind had moved a bit to the NE and was very fresh in the wind (and quite bitter when the sun was behind the clouds).  As night fell the wind dropped and so did the temperature.  I would not be surprised if there was a frost somewhere.
With just a few hours to go, it would be nice for my mate to catch one and you never know on here, fingers crossed for the last few hours.
We stayed until just before 11 am, but the carp clearly was not there.
Until next time
Richard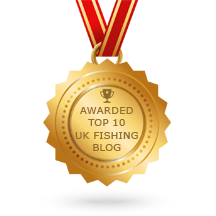 Please subscribe to my Video Diary
Consultant For
Sponsored By