Welcome To BidGrid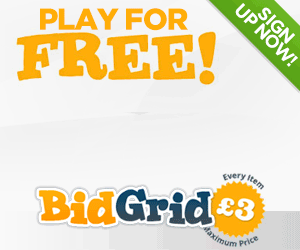 The BidGrid website is owned and operated by Bid Grid Ltd (Company Number 07417767).
Our mission is simple, to make shopping online more exciting. We provide a new, exciting way for people to win luxury products at massive savings, with zero risk.
Our auction items are always brand new, factory sealed and supplied with a full manufacturers warranty.

BidGrid is a UK owned and operated company. We are innovators, and by operating around our core principles we constantly aim to provide increased:
– value for money
– transparency
– user experiences
– customer service
We:
– Have developed a new, fun and exciting auction platform.
– Provide every piece of relevant information for each auction.
– Limit the total number of bids per auction to 500.
– Have free practice auctions.
– Have a fixed price range of £0.01 – £3.00 where all bids must be placed.
– Offer great 'exchange for cash' and 'convert to bid balance' rates.
– Always aim to respond to emails within one hour.
– Show details of all finished auctions, all bids placed, winning bid etc.
– Offer a 'buy it now' feature on all auctions for zero risk bidding.
– Deliver all products free of charge.
We Do Not:
– Have any auction timers, which reset until the required bids have been placed.
– Restrict the number of products any one user can win.
– Have monthly, subscription, recurring or any other hidden charges.
– Run 'out of the box' software or scripts that many other sites do.
– Require 2000 or 3000 (+) bids to be placed on an auction before it will end.
– Operate or provide support from offices outside of the UK.
– Use robots or any other kind of automatic bidding mechanisms.
We are highly focused on our end user experience, and have designed our auction platform to be both fun and very easy to use. We are always happy to hear from any users, especially if you have any suggestions that you think may improve the BidGrid site