With the weather, work and family stuff, I've not managed to get out for two weeks, which is a shame, I just didn't fancy getting soaked for only 5 hrs fishing.
I had a quick look about and spotted a carp show in front of this swim.  I was looking at another area, I didn't fancy fishing here again.  You have to go where you see the fish.  After all the strong winds we have had, I was thinking they may be on the back of the wind.
My left-hand rod is at the bottom of a nice drop off at the end of a bar, which I've had fish from before.  The other rod is on a nice spot I found after an hour of using the deeper, marker and leading about.  Both areas have been baited with chopped Catalyst boilies, Particle blend, a load of Betafin (left to soak for 2 days) and I will be fishing different SF Wafters until I get a take.  I will be changing them every 12hrs as I don't wish for too much disturbance in the swim.  I will have to bait up after 24hrs as the small fry will have mopped up the particles etc up by then.
Well, the bream may have found the bait as just before 4 pm, my left-hand rod was beeping up and down, with that telltale sign of a bream – let's hope it's the only one.
The night past with only one disturbance that nearly pulled the bobbin to the top and dropped back a small amount.  I was thinking it's another bream, but it never moved again.  I was hoping it was a liner from feeding carp but this was around 3 am and the rain and wind arrived and a cold night became a warm night.
The wind was certainly stirring things up and I'm hopeful of a carp today.  These conditions look perfect and are the main reason I'm doing two nights.  All my baits are in the perfect spots, all set for the weather change.  It definitely wouldn't have been fun setting up in this.
1010 and the right-hand rod is off.  I was halfway through putting on my salopettes when the buzzer screamed into life, which was nice.  After a quick fight, the carp was in the NSR50 and my first winter carp was on the bank.  I was very happy about that.
The bait back on the spot, it was time for a brew.
The day past with no action and into early evening.  I had rebaited both rods and topped up the swim with my mixture late afternoon.  It must have been all that fresh air, as I drifted off to sleep sometime after 5pm.  I woke up again just before 8pm, had a brew and watched Netflix until midnight.  I use headphones with only one earpiece, which is perfect for listening out of fish.
I got my head down again and the next thing I knew, my alarm clock telling me it was pack up time.  I set this just in case I get completely sucked into the session and end up packing up way too late.  I try and get home mid-morning and spend the day with the family.
I was very confident of getting another fish yesterday and especially with the conditions just so perfect. Oh well, it's been a pleasant few nights on the bank.
Until next time
Richard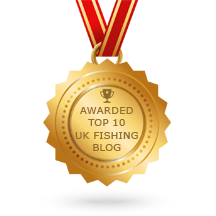 Please subscribe to my Video Diary
Carp Fishing Tackle on Ebay